Bill Cosby facing litany of allegations
Willie Grace | 2/24/2015, 12:23 p.m. | Updated on 2/24/2015, 12:23 p.m.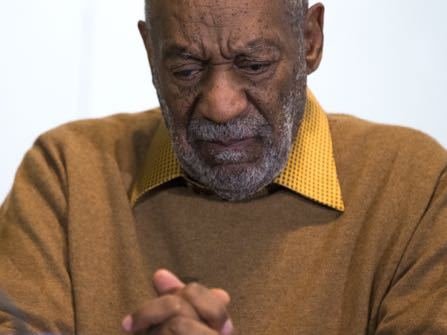 (CNN) -- It seems every day brings another allegation that further dismantles Bill Cosby's image as the jovial, pudding-loving patriarch whose family-friendly brand of comedy tickled successive generations.
Though the star has vehemently denied most of the accusations that he drugged and sexually assaulted young women seeking career guidance, the stories are taking their toll on his reputation and bankroll.
The stories of Cosby's purported misdeeds have been around for about a decade, but they recently got new life when a comedian took aim at him and a social media stunt inviting fans to meme the comic went awry.
Cosby, 77, has never faced a judge or jury, let alone been convicted, over the allegations. But it's clear many people have already tried him in their minds.
When an NPR reporter gave him a chance to deny the allegations, Cosby provided an awkward moment of radio silence, refusing to answer the question. Given the same chance by The Associated Press, he offered no comment. When the interview concluded, he told a reporter that asking him about the allegations was a mark of low integrity and said he'd be appreciative if that portion of the interview was "scuttled."
Cosby recently told Florida Today he won't respond to "innuendos," referring to the women's accusations.
"I know people are tired of me not saying anything, but a guy doesn't have to answer to innuendos. People should fact-check. People shouldn't have to go through that and shouldn't answer to innuendos," Cosby told the newspaper in a backstage interview before a sellout performance at the King Center for the Performing Arts in Melbourne, Florida.
More than 20 women have spoken to various media outlets.
Here are 24 who have spoken with CNN, asserted their allegations on camera or in published accounts, or have been the subject of responses from Cosby's attorneys. CNN has not been able to independently confirm Cosby's accusers' allegations. While his attorneys responded to the initial accusations, they haven't responded to more recent allegations, including the two newest ones in February:
1960s
Cindra Ladd
The now-wife of Academy Award-winning film producer Alan Ladd Jr. was a single 21-year-old in 1969 when she met Cosby in New York, according to an account Cindra Ladd wrote for the Huffington Post. At the time, she said she was working in New York for the late film producer Ray Stark, who had just produced "Funny Girl."
Cosby asked her for her phone number, which she gave, according to Ladd.
One evening, Cosby and Ladd agreed to see a movie and met at an apartment that Cosby said belonged to a friend, Ladd wrote. She had "a terrible headache," and Cosby offered "a miracle cure" given by his doctor, she said.
"He went into another room and came back with a capsule. I asked a couple of times what it was. Each time he reassured me, asking, 'Don't you trust me?' Of course I did. This was Bill Cosby," Ladd wrote.