Futuristic Toyota Mirai fuel-cell vehicle is hand-assembled in a tiny workshop
Willie Grace | 2/24/2015, 1:36 p.m. | Updated on 2/24/2015, 1:36 p.m.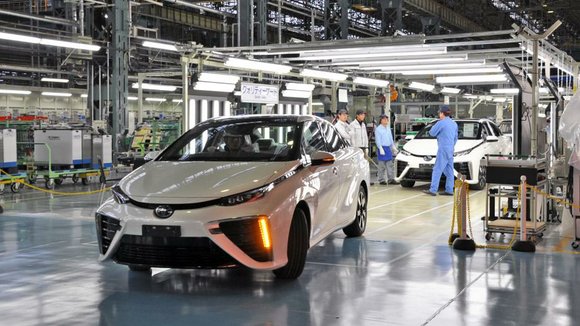 SKILLED CRAFTSMEN BUILD POLARIZING MIRAI WITHOUT A MODERN PRODUCTION LINE
The disparities are stark between the petite workshop making Toyota's futuristic Mirai fuel cell sedan and the massive assembly lines churning out its other cars. Only three Mirais creep down the glistening white floors a day, while 13 workers -- yes, just 13 -- in blue hard hats tighten suspensions, hem door trim and install center stacks by hand.
Some even have time to stand around cross-armed.
There is no cacophony of andon bells. Indeed, not even an andon line to stop the flow if problems crop up. There are stacks of parts racks, even a whiteboard, separating cars coming through. And at this back lot workshop, there is no conveyor even moving the vehicles. They are pushed between stations like apple carts.
It may seem ironic Toyota Motor Corp.'s most advanced vehicle, a car that runs on hydrogen and emits water, has such a low-tech birth. But President Akio Toyoda says the Mirai embodies a return to roots, in attention to quality and pioneering spirit. Indeed, even though actual production of the Mirai began in December, Toyoda said he deliberately chose today, Feb. 24, to celebrate. That is because the day is the fifth anniversary of what many in the company consider its nadir.
Rebirth from crisis
Exactly five years earlier, Toyoda was hauled before a U.S. congressional panel and given a humiliating grilling about his company's unintended acceleration recalls. "For us, that date marks a new start," Toyoda said at today's line off ceremony for the fuel cell car. "This is not to reflect on the past, but rather to celebrate Toyota's new start, where we take a fresh step towards the future."
Since that moment, Toyoda pledged to rebuild the company with a back-to-basics emphasis on quality and top-notch product. No plant epitomizes that better that the Motomachi plant now making the Mirai. The car is being hand-built in the same workshop that built the Lexus LFA sports car. The master craftsmen working its line were chosen for their car-building acumen, then hone their skills for two years building the Mirai.
"These facilities are not so advanced. Rather, we rely on the work of our skilled employees," Toyoda said. "This is similar to how things were when Toyota was just starting out." Yet, the Mirai's small-batch, kid-glove treatment also underscores the challenges of introducing the new technology.
Low productivity
"Compared with other plants, this has very low productivity," said Mitsuyuki Suenaga, an assistant manager at the Motomachi workshop. "It is all manual." That low productivity contributes to the car's hefty price tag and testifies to the fact that demand is still in its infancy.
Nevertheless, Toyota is already boosting production plans. Last month, it said it will make 2,000 vehicles a year in 2016 and 3,000 in 2017. When Toyota unveiled the car in November, executives said it would achieve cumulative sales of 3,000 by the end of 2017. The company plans to build just 700 in 2015, to feed sales in Japan, Europe and the United States.