Dr. Steven Wong, Breakthrough Cancer Researcher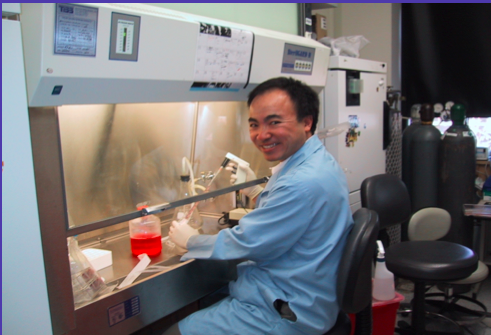 Every October, millions of people around the world commit to a global fashion anomaly by accessorizing in bright shades of pink. You see it everywhere, in advertising, on the football field where NFL players wear pink gloves and shoelaces and in retail stores where the pink ribbon adorns clothing and consumer goods, the universal symbol of breast cancer awareness. There is hardly any day goes by when we do not see cars one after another driving by with a pink ribbon sticker on the window. The length of this article limits me to talk more about the statistics just in California, which states that out of every two person will get cancer and every fourth will die from it.
Not a surprise then that it's become a highly popular social movement, and people have become more and more aware of the scourge of breast cancer, a form of the disease that affects both men (lesser known to the general public) and women.
I had the honor to interview Dr. Steven Wong about his own journey into cancer research and the revolutionary findings under his leadership. The topic had hit home hard for me, yet has given birth to a new way of keeping the public informed about the latest in cancer research through access to information that will give rise to even more awareness in a creative, yet simple, up to date way. Inspired by Atlantic Publicity, our Youthful and Ageless™ project is in the making and will include studies, research materials, interviews, discoveries presented at nationwide conferences, articles by recognized researchers in the field, and numerous interviews with Dr. Wong, who truly cares about finding the cure, but perhaps even more importantly, about his patients personally.
There are genius minds in research labs, who love their work, but not everyone has the personality to care for patients with this most devastating and worst disease of our time. Dr. Steven Wong has a heart of gold and patiently cares for each of his patients individually when he is not in the lab full time working to find a cure. That personal care alone is priceless in our hectic and sometimes chaotic society. He takes each case close to his heart and understands all the human elements arising when this most feared "c" word is first heard. He walks his patients through generally unknown information in great details each step of the way and explains your particular case, which is unique to everyone, with "surgical" precision adding to it what science knows at any given point in time.
Not only I am very proud and grateful to be associated with one of the most brilliant minds in this field pioneering some of the breakthrough research that resulted in the development of the drug Herceptin, which is now the most effective tool being used to combat the disease, but Dr. Wong has also become a caring and loyal friend. I personally consider these qualities the most important ones in a human life. Not just a purpose driven life, but a life lived with humble dignity and ultimately lived for others. Albert Einstein said: " Only a life lived for others is worth living." Dr. Steven Wong is one of our heroes having been a research associate at Dennis Slamon's Jonsson Comprehensive Cancer Center at UCLA in Los Angeles.