Boehner running out of options as DHS shutdown looms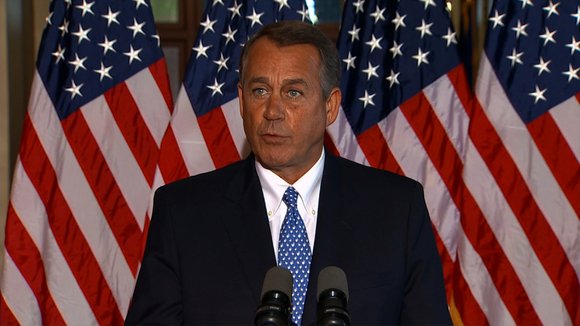 WASHINGTON (CNN) -- House Speaker John Boehner has been here before -- wedged between his hard-right flank and the Senate.
How he handles the looming showdown over a funding bill for the Department of Homeland Security could dictate the rest of his speakership, as House conservatives warn compromising now means he's effectively allowing Democrats to block GOP agenda for the next two years. Doing something that angers his right flank could again raise questions about his ability to lead the Republican conference.
Congress remains at an impasse over funding the agency, which is set to shut down on Friday. That would put thousands of workers on furlough without pay and while Obama administration officials say short-term security impacts will be minimal, they warn of potential issues in the long-term.
At issue are policy constraints added to the funding bill that would limit President Barack Obama's immigration actions: House conservatives insist on including the restrictions, but Senate Majority Leader Mitch McConnell has not been able to get them passed and is promising a vote on a funding-only measure.
House Republicans are meeting Thursday evening to discuss a vote on a short-term funding bill that would extend current funding levels for less than a month. But that approach means this fight will continue as the two sides to fight over immigration policy.
Over and over on Thursday, Boehner repeated his mantra -- the House had done its job and it was up to the Senate to act. After being pressed by a reporter to explain his end game the speaker blew kisses -- a gesture familiar to the Hill press corps from a joking Boehner when he is signaling he's not going to answer a question.
"Democrats are using Homeland Security funding for blackmail to protect the actions of the President," he said, insisting the GOP was united. "
Even as he and McConnell pursue completely different strategies to address the impending funding lapse, Boehner insisted the GOP is on the same page.
"It is not a fight amongst Republicans. All Republicans agree we want to fund the Department of Homeland Security and we want to stop the President's executive action with regard to immigration," he said.
But McConnell did split with Boehner earlier this week when he agreed to Democrats' demands to drop provisions that were attached to the House-passed spending bill that blocked the President's executive actions on immigration.
The Senate is expected to approve that so-called "clean" funding bill for the Department of Homeland Security by Friday, dropping the issue back in Boehner's lap. Many House conservatives are angry that McConnell gave into Democrats and want to hold the line when it comes to the administration's immigration policies.
Kansas Republican Tim Huelskamp took a swipe at the GOP leader's move, saying, "it put the surrender caucus in charge of the Senate and Harry Reid is still in charge."
With two days left before the deadline, multiple House Republicans admitted to CNN they had no idea what the next step would be, and they were awaiting word from Boehner and his top lieutenants. House GOP members were scheduled to meet Thursday evening to discuss their options. House Majority Leader Kevin McCarthy has told members to be prepared for stay for late night votes and to remain flexible.