OWN: Oprah Winfrey Network Orders New Episodes of All Four of Its Popular Tyler Perry Series
New Seasons of Tyler Perry's Drama "If Loving You is Wrong" and Comedy "For Better or Worse" Kick Off Tuesday, March 24 and Friday, March 27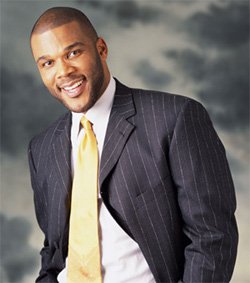 Los Angeles - OWN: Oprah Winfrey Network announced today that it is ordering additional episodes of its four popular Tyler Perry scripted series including 23 one-hour episodes of the drama "The Haves and the Have Nots;" 22 one-hour episodes of the companion drama "If Loving You is Wrong;" 22 half-hour episodes of the comedy "Love Thy Neighbor;" and 20 half-hour episodes of the comedy "For Better or Worse."
"Oprah Winfrey's partnership with Tyler Perry has been a tremendous success, garnering millions of viewers for OWN and setting ratings records," said Erik Logan, president, OWN. "Tyler's original series have quickly become appointment viewing for a passionate audience and OWN is pleased to deliver 87 new episodes."
Tyler Perry's scripted series have bolstered OWN's rise to a Top 25 cable network in primetime among women 25-54. Throughout its current season, "The Haves and the Have Nots" has averaged more than three million viewers and has consistently ranked as Tuesday night's #1 telecast on television for African American households and total viewers. The most recent season of "If Loving You is Wrong" averaged more than 1.7 million viewers, with "For Better or Worse" averaging more than one million weekly viewers and "Love Thy Neighbor" averaging 900,000 weekly viewers respectively.
Series descriptions and air dates below:
"THE HAVES AND THE HAVE NOTS" (Season Finale, Tuesday, March 24 at 9 p.m. ET/PT) - Starring John Schneider (Jim Cryer) and Tika Sumpter (Candace Young), OWN's highest-rated series portrays the ongoing drama between the wealthy Cryer and Harrington families and the poor Young family. In the mid-season finale, Veronica Harrington (Angela Robinson) goes off the rails, off the wagon and loses her temper, leading up to a tragedy at the Harrington household.
"The Haves and the Have Nots" finale leads into the premiere of "If Loving You is Wrong."
"IF LOVING YOU IS WRONG" (New Episodes Begin Tuesday, March 24 at 10 p.m. ET/PT; Regular Time Slot: Tuesdays at 9:00 p.m. ET/PT) – OWN's highest-rated series debut in network history takes viewers into the lives of a group of husbands, wives and friends that live and love in the same middle class neighborhood. Tensions are high and sins are revealed in the series return. Marcie (Heather Hemmens) uncovers her husband Randal's (Eltony Williams) infidelity with next-door neighbor and friend, Alex (Amanda Clayton). Emotions come to a climax at Brad's (Aiden Turner) surprise party when the details of the secret affair between his pregnant wife Alex and their neighbor Randal come to light. Meanwhile, Esperanza's (Zulay Henao) abusive ex, Edward (Joel Rush) and her new boyfriend, Julius (Octavio Pizano) continue to clash as Edward makes plans to retaliate against Julius for shooting up his house….and retribution is all but assured after Natalie's (April Parker Jones) son Joey (Matt Cook), fresh out of prison, beats up Quan (Dawan Owens) and takes back the money stolen from Natalie's restaurant. In addition, Kelly (Edwina Findley Dickerson) must come to terms with her breakup with Travis (Denzel Wells) who returned from Haiti with a new love.