Ben Ainslie plots America's Cup history
Willie Grace | 1/5/2015, 2:21 p.m. | Updated on 1/5/2015, 2:21 p.m.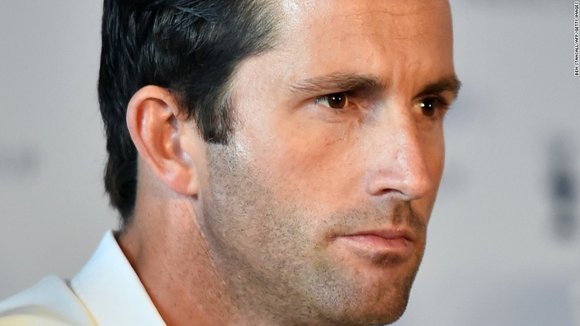 (CNN) -- With Ben Ainslie, it's in the stare.
Charming, polite, every bit the sailor-cum-businessman, the clothes are perfectly pressed with not a hair out of place.
But it's the look in his brown eyes, the glare that offers a glimpse of the other side of sailing's Jekyll and Hyde.
His friend and America's Cup rival skipper Iain Percy once described him as the "most competitive man on the planet."
And on an industrial estate in a small, understated office -- quintessentially Ainslie -- in Portsmouth on England's south coast, Britain's greatest ever sailor is plotting how to win the America's Cup.
"It's the same drive to win," he says of Britain's bid to seal their first win in the event's 163-year history.
"Until we're on the start line we won't know for sure how we've done. It's exciting and terrifying so you have to keep the intensity."
Even Ainslie admits to having different personalities on and off the water: "I'm pretty aggressive and I certainly wouldn't want to be like that on land."
On the water, there's no shut-off valve, just an unabated desire to win.
It was there to see in his four Olympic gold medal wins, most notably his infamous Incredible Hulk-inspired "don't make me angry" speech to his rivals at the London 2012 Games.
It's even there in training. In the build-up to those Olympics, I traveled to Mallorca to watch Ainslie, already selected for the Games, racing against his British Finn rivals, who were there simply to support him.
At dinner the night before, he was quiet and unassuming. On the water, it was like a switch had been flicked, a red mist descended.
Ainslie was determined to win this particular training session, racing as though Olympic gold was being dangled before him.
It's a competitive nature that has landed Ainslie in hot water.
The contentious tactics he employed to edge out Robert Scheidt and win his first Olympic title, led to death threats from Scheidt's native Brazil and Ainslie confesses to "still losing my temper when things aren't going right."
Now 37 and with a team off 55 staff -- and growing -- around him, he is trying to be calmer and adapt to his new responsibilities.
There's certainly a noticeable difference between the Ainslie of 2012 and the Ainslie of now.
There's a calm confidence as he walks through the office from a morning's sailing, helped it must be said by the knowledge that his staff have bought into his mission -- with many leaving other jobs to work solely for him.
He might downplay his role -- "I'm not doing any role specifically bar steering the boat when it's on the water" -- but Ainslie is Britain's America's Cup bid. It's his name -- Ben Ainslie Racing (BAR) -- on the entrance to the team's headquarters, on the boat and on the clothing that they wear.