Ched Evans: The pariah of English football?
Willie Grace | 1/5/2015, 2:16 p.m. | Updated on 1/5/2015, 2:16 p.m.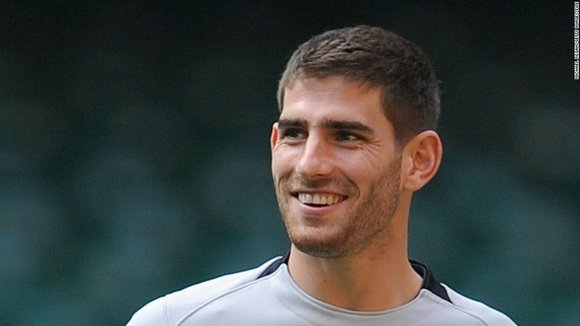 (CNN) -- He's an unemployed former English Premier League footballer who is desperate to resume his playing career.
But while several clubs have signaled their interest in offering convicted rapist Ched Evans a second chance, public opinion in Britain is proving an almost insurmountable stumbling block for the 26-year-old.
Since his release from prison after serving half of a five-year sentence for raping a 19-year-old girl, debate has raged as to whether Evans should be allowed to resurrect a high-profile career within the sport.
Even the leader of the British Labour Party -- the UK's main opposition political group -- has weighed into the debate, asking whether a sporting role model should be offered a contract by a club.
After being spurned by former club Sheffield United, fourth tier Oldham Athletic is the latest to be thrust into an unwanted spotlight after contemplating hiring him.
More than 27,000 people have put their names to a petition calling on the club not to sign him in the space of 24 hours, with Oldham forced into a series of crisis meetings to further examine the issues.
The club released a statement on Monday saying it still hadn't reached a decision and would "continue to have conversations with representative bodies ... and will conduct due diligence with regard to any decision we make on this matter."
Evans, who started his career with current English Premier League champions Manchester City, has maintained his innocence throughout and is awaiting the outcome of a Criminal Cases Review Commission inquiry into his sentence.
But his future in the game could hang on the outcome of Oldham's investigations. Should they turn him down, the former Wales international would be further away from the playing field than ever.
Oldham might be in two minds, but public and political opinion, appears not to be.
The leader of the Labour party, Ed Miliband, the local Member of Parliament for Oldham East and Saddleworth, Debbie Abrahams, and Greater Manchester's Police and Crime Commissioner, Tony Lloyd have all come out against the move.
"I believe it would be wrong for Ched Evans to return to playing football for Oldham Athletic or any other club, as he has been convicted of rape, a violent crime for which he has neither apologized or acknowledged," Abrahams said in a statement.
"It would send out an entirely inappropriate message to young fans and victims of sex crimes for him to be signed by Oldham or anyone."
It's very much a case of history repeating itself for Evans.
Clamor from the public derailed a plan for him to be allowed to train with Sheffield United, in English soccer's second tier, after the club said reaction to its decision "has been at an intensity that could not have been anticipated."
Over 165,000 people signed a petition urging United to cut ties with him while Olympic heptathlon champion Jessica Ennis-Hill told the club she wanted her name removed from one of the stands at its stadium should Evans play for it again.