From omnivore to vegetarian: 'No gray area'
Willie Grace | 1/7/2015, 12:53 p.m. | Updated on 1/7/2015, 12:53 p.m.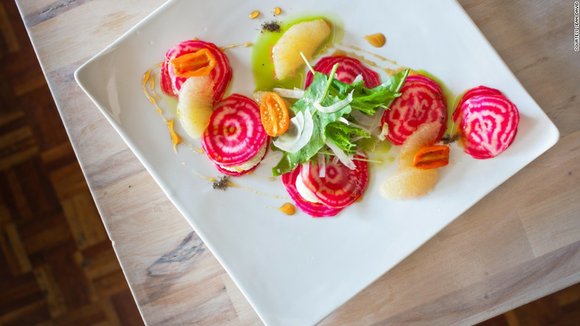 (CNN) -- Atlanta Chef Linton Hopkins wanted to eat healthier and lose weight.
As a cancer survivor, he tried all kinds of diets, but the calorie-counting and portion-control did not work for his busy lifestyle, he said.
By comparison, giving up all animal products was easy to understand: "There's no gray area."
Nudged on by his wife, he began experimenting with veganism in June 2014.
Diets can be hard, especially if eating is your livelihood. Surprisingly, perhaps, some in the food world have found the path of least resistance through cutting out meat and, in some cases, dairy and fish.
But, as their experience shows, changing up your regimen does not have to be all or nothing.
Vegetable cookery was familiar terrain to Hopkins, a James Beard award-winning Southern chef. Despite the region's reputation for BBQ and fried chicken, Southern food leans heavily on vegetables, even if they are often cooked in fatback or butter. The vegetable plate at his fine-dining eatery, Restaurant Eugene, consistently receives praise from vegetarians and was named one of the best in the South by Southern Living. It also can be prepared vegan upon request.
To eat vegan at home, the challenge was to create vegetable dishes free of animal fat or flavoring that were as "crave-able as BBQ," Hopkins said. As a chef, he was absolutely willing to take matters into his hands.
Instead of butter, he mastered vegetable stocks and glazes for roasting vegetables. He experimented with essential oils of nuts to bring out flavor in sautéed vegetables.
Within 11 weeks he lost 20 pounds and felt great. But he's a chef and business owner, and he's not running a vegetarian establishment. He still takes bites of meat in his restaurant kitchen to ensure it's up to his standards, especially in new presentations.
"I believe it's my responsibility as chef to taste and ensure flavor is all there," he said. "You can see and hear the flavor in the pan and smell it, but you have to bring all senses to the process."
Still, his regimen at home is influencing his restaurants. When Hopkins opens an outpost of Holeman & Finch, his successful restaurant best known for its double-stack burgers, he plans to introduce a vegan burger to the menu.
"I never want anyone to feel limited in their ordering experience," he said. "If you come in as vegan or with a wheat allergy, we don't want to make you feel like you only have one thing to order."
Eating 'lean and clean'
For food writers, overeating can be an occupational hazard. That's what drove Washington Post food writer Joe Yonan to become a vegetarian: a desire to eat "lean and clean" at home in response to all the "fat and dirty" eating in restaurants.
While the past few years have brought more interest in plant-based eating, a countervailing trend has been to celebrate meat by using all parts, nose to tail. At the same time, he noticed his freezer was filling up with farmers market meat that he kept saving for a "special occasion," he said.