Charlie Hebdo attack: Helicopters hunt for suspects in wooded area
Willie Grace | 1/8/2015, 7:21 p.m. | Updated on 1/8/2015, 7:21 p.m.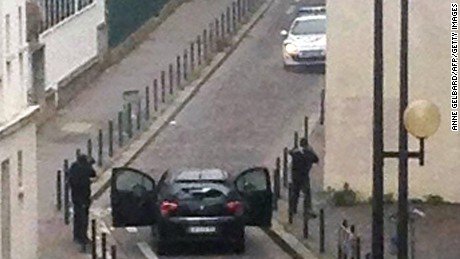 (CNN) -- An intense manhunt for two brothers wanted for the Charlie Hebdo magazine massacre focused Thursday on northern France's Picardy region, where helicopters swarmed overhead and heavily armed officers canvassed the countryside and forests in search of the killers.
Authorities haven't said whether they know where Cherif Kouachi, 32, and Said Kouachi, 34, are -- or where they might be going.
Police flooded the region after a gas station attendant reportedly said the armed brothers threatened him near Villers-Cotterets in Picardy, stole gas and food, then drove off late Thursday morning.
About 10 kilometers (6 miles) from the gas station, police blocked a rural country road leading to the French village of Longpont. Authorities have not commented in any detail, but pictures showed heavily armed police officers with shields and helmets in the blocked-off area.
Hours later, a CNN team witnessed a convoy of 30 to 40 police vehicles leaving a site near Longpont.
Prime Minister Manuel Valls put the Picardy region on the highest alert level, that same level that the entire Ile-de-France region, including Paris, is already under.
As the search for the suspects intensified, details emerged about their past travels -- and possible training abroad.
The United States was given information from the French intelligence agency that Said Kouachi traveled to Yemen as late as 2011 on behalf of the al Qaeda affiliate there, a U.S. official told CNN. Once in Yemen, he received a variety of weapons training from al Qaeda in the Arabian Peninsula, including on how to fire weapons, the official said.
In addition to Picardy, other parts of France have also been under scrutiny.
Earlier Thursday, a gunman -- dressed in black and wearing what appeared to be a bulletproof vest, just like those who attacked the Charlie Hebdo offices -- shot and killed a female police officer in the Paris suburb of Montrouge. One person was arrested in that incident, Paris Deputy Mayor Patrick Klugman said, though it's not known if the shooter is still at large.
Authorities have called that a terror attack, but they haven't outright connected it to Wednesday's slaying of 12 at the satirical magazine's Paris headquarters.
Latest updates at 5:30 p.m. ET
• A U.S. law enforcement official tells CNN that the Kouachi brothers were in the U.S. database of known or suspected international terrorists, known as TIDE, and also had been on the no-fly list for years.
• One of the brothers suspected in the Charlie Hebdo attack traveled to Yemen in 2005, France's justice minister told CNN on Thursday. Justice Minister Christiane Taubira did not specify which brother had traveled to Yemen.
• An ISIS radio broadcast Thursday praised the attackers, calling them "brave jihadists." There was no mention of a claim of responsibility for the attack.
• Paris' iconic Eiffel Tower went dark at 8 p.m. (2 p.m. ET) in remembrance of the victims of Wednesday's attack.
• Police hunting for the Kouachi brothers have searched their supposed residences in a number of towns, Interior Minister Bernard Cazeneuve said.