Election day: Sri Lanka at a crossroads
Willie Grace | 1/8/2015, 7:33 p.m. | Updated on 1/8/2015, 7:33 p.m.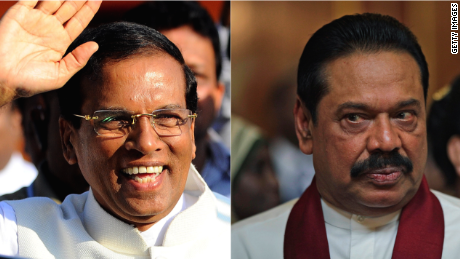 (CNN) -- In November, when Sri Lankan President Mahinda Rajapaksa called an election two years earlier than necessary, the path ahead looked clear for an unprecedented third term in office.
Today, as the nation of 15 million eligible voters goes to the polls, the 69-year-old's electoral ambitions appear in jeopardy.
After enabling an extension of his presidency by doing away with a two-term limit, Rajapaksa's campaign was spectacularly wrong-footed by the surprise defection of dozens of political allies in recent months -- including the man who now threatens to unseat him.
That man is Maithripala Sirisena, 63, and he was general-secretary of Rajapaksa's Sri Lanka Freedom Party, and health minister in his cabinet, when he defected to lead a broad opposition alliance. Analysts describe him the most serious opponent Rajapaksa has faced.
The race -- which watchdogs say has been marred by hundreds of incidents of political violence and a government misuse of state media -- appears too close to call. Opinion polls and analysts spoken to by CNN are divided on the outcome.
"It's not auguring very well for (Rajapaksa). He's got a contest on his hands," said Paikiasothy Saravanamuttu, executive director of Sri Lanka's Center for Policy Alternatives.
He said Rajapaksa, accustomed to a weak and fragmented opposition, could not have anticipated facing a united alliance of nearly 40 parties -- including 23 parliamentarians who have defected from the president's own grouping, as well as nationalists from the Sinhalese majority and Tamil and Muslim minorities in the ethnically diverse nation.
"He didn't expect the candidate to be Sirisena," said Saravanamuttu. "I think he probably underestimated the disaffection in the country and the desire for change."
'Rock star appeal'
Rajapaksa, a lawyer by trade, entered parliament in 1970, became prime minister in 2004 and was narrowly elected president a year later.
In 2010, he was returned to power with 58% of the vote.
His crowning achievement in office has been crushing the Tamil Tigers and bringing an end to the bloody 25-year civil war that had raged between the state and the Tamil separatists.
The conduct of both the government and the Tamil Tigers was slammed by legal experts at the United Nations, who accused both sides in a 2011 report of war crimes and crimes against humanity.
Yet the victory -- delivering security and renewed prosperity to the war-ravaged nation, with an average of 7% economic growth a year during his presidency -- remains his prime political asset, says Dayan Jayatilleke, a political scientist and former Sri Lankan diplomat.
"When voters turn on their TVs and they see the attack on Charlie Hebdo, on the Pakistan school, or Boko Haram, it reminds them of how hideous it is to live under terrorism," he said.
"That's something the Sri Lanka voters have done for years, and whatever they think of the rest of his style of governance, they think he's the guy who made it go away."
He says the folksy Rajapaksa, whose mustached face is a ubiquitous sight on posters throughout the island nation and is frequently likened to an ancient Sinhalese king, possesses "a rock star appeal."