King Abdullah bin Abdulaziz al Saud Fast Facts
Willie Grace | 1/8/2015, 7:40 p.m. | Updated on 1/8/2015, 7:40 p.m.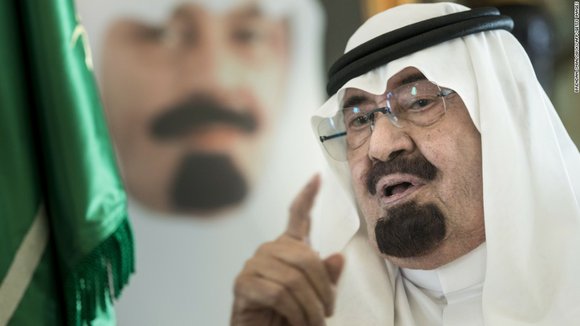 (CNN) -- Here is a look at the life of Saudi Arabia's King Abdullah bin Abdulaziz al Saud.
Personal: Birth date: August 1, 1924
Birth place: Riyadh, Kingdom of Saudi Arabia
Father: King Abdulaziz bin Abdulrahman al Saud
Mother: Fahda bint Al-Asi Al-Shuraim
Marriages: Wives' names not available publicly, but according to Islamic tradition he is allowed no more than four at a time.
Children: Exact number is not available publicly; sons include: Khalid (eldest son died June 2011 at age 54); Mitab; Abdulaziz; Mishal; Faisal; Badr
Education: early education at the Royal Court
Religion: Wahhabism (a conservative Islamic sect)
Military: Commander of the Saudi Arabia's National Guard, 1962-2010
Other Facts: Is one of 37 sons.
Is prime minister and head of state.
Helped create the Allegiance Authority, a committee of princes who vote on the eligibility of future monarchs and crown princes.
Under his leadership, Saudi Arabia joined the World Trade Organization.
Breeds pure Arabian horses and founded the equestrian club in Riyadh, Saudi Arabia.
Speaks with a stutter.
Timeline: 1962-2010 - Commander of Saudi Arabia's National Guard.
1975-1982 - Is Saudi Arabia's second deputy prime minister.
1976 - During his first visit to the United States, he meets with President Gerald Ford.
June 13, 1982 - King Khalid dies and Fahd Bin Abdulaziz al Saud is named king of Saudi Arabia. He names his half-brother, Prince Abdullah, crown prince and successor.
1982-2005 - Deputy Prime Minister.
October 1987 - During his second visit to the United States, Crown Prince Abdullah meets with President George H.W. Bush.
March 1, 1992 - Is confirmed heir to the throne of Saudi Arabia by King Fahd.
November 1995 - King Fahd has a stroke, and Crown Prince Abdullah assumes his duties.
September 1998 - Meets with President Bill Clinton in the United States.
February 2002 - Proposes a comprehensive peace plan to address the violence in Jerusalem and other Israeli-Palestinian areas. It is the first such plan introduced by an Arab nation since 1947. This plan calls for full Arab recognition of Israel as a nation, and a complete withdrawal by Israel from territories gained since the 1967 war.
April 25, 2002 - Meets with President George W. Bush at the president's ranch in Crawford, Texas.
2004 - In a 2004 speech broadcast on Saudi television, Abdullah warns Saudi citizens not to support extremists who want to overthrow the ruling family, and vows to hunt them down, regardless of how long it takes.
August 1, 2005 - Becomes sixth king of Saudi Arabia following the death of King Fahd bin Abdulaziz al Saud. He chooses Prince Sultan bin Abdulaziz el Saud as crown prince.
2008 - King Abdullah hosts President George W. Bush at the royal ranch in Jenadriyah.
February 2009 - Appoints Saudi Arabia's first female to the council of ministers.
November 13, 2010 - Transfers his position as commander of Saudi Arabia's National Guard to his son Prince Mitab bin Abdullah.
November 24, 2010 - Is in New York to undergo back surgery on a herniated disc and blood clot.