2016 Hyundai Sonata plug-in hybrid gets green at Detroit auto show
Willie Grace | 1/12/2015, 3:07 p.m. | Updated on 1/12/2015, 3:07 p.m.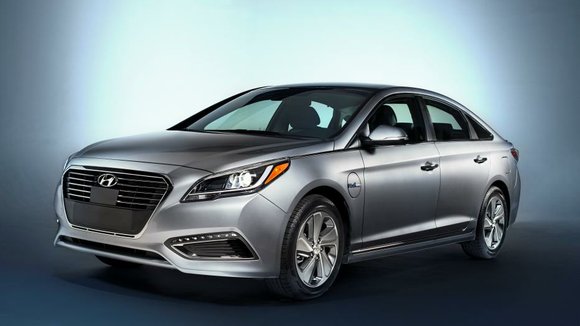 Just in time for $1.50/gallon gas, Hyundai is using the Detroit auto show to introduce its latest green machines, the 2016 Sonata Hybrid and Sonata Plug-in Hybrid (PHEV). The latter serves as Hyundai's first plug-in hybrid and arrives with some impressive specs.
The Hyundai Sonata Plug-in Hybrid gets a 9.8 kWh lithium polymer battery (that's about five times the size of the regular hybrid's battery, for reference) that offers up to 22 miles of all-electric range and can recharge in as little as 2.5 hours using a Level 2 charger.
Under the hood sits a 2-liter four-cylinder GDI engine coupled to a six-speed automatic transmission. Sandwiched between the two is a 50 kW electric motor in the location usually occupied by a torque converter. Total system output is 202 hp; the four-cylinder gasoline engine delivers 154 hp and 140 lb-ft of torque.
Hyundai estimates 93 MPGe combined when the Sonata Plug-in is in EV mode; charge sustaining mode (with the gas engine contributing) should yield 38 MPG city, 43 highway for 40 combined MPG. And, while most PHEV intenders will likely spring for a Level 2 charger, the Sonata Plug-in will accept a charge from a standard wall outlet; expect about 5 hours for a complete recharge on 120V.
The standard Sonata Hybrid gets the same basic layout, just with downsized electrical components. A 1.62 kWh battery delivers juice to a 38 kW electric motor (transmission mounted electrical device, in Hyundai parlance), and the company claims the car can operate in EV mode at speeds of up to 75 mph. Fuel economy is estimated at 39 MPG city/44 highway/42 combined.
This newest Hyundai Sonata Hybrid also gets a reconfigured battery pack allowing a flat trunk floor and available 60/40 split-folding rear seats; hybrid battery placement usually requires a sacrifice in cargo flexibility, and it appears Hyundai's put some extra effort into trunk design here. Cargo volume is 13.3 cu ft – 10 percent better than the current Sonata Hybrid – while passenger volume is pegged at 106.1 cu ft.

Outside, both the Sonata PHEV and Sonata Hybrid get updates to the grille, front and rear fascias, front fenders and lighting; the company claims the refinements result in a .24 coefficient of drag, identical to that of the Tesla Model S. A freshened instrument cluster adds detail for hybrid system operation.
The Sonata Plug-in also gets a charging port on the driver's front fender and a unique grille, along with a special instrument cluster that gives PHEV-specific information. Hyundai has also placed a charge indicator on the dash so owners can check the state of charge from outside the car.
Both cars will offer exclusive Graphite Blue Pearl and Seaport Mist exterior paint colors, while interiors will be offered in gray or beige cloth or leather, or an all-new Blue Pearl leather option with contrast stitching and trim accents.
In addition to the expected standard safety gear, Hyundai is adding available forward collision warning, cross-traffic alert, rear cross-traffic alert and lane departure warning. A system called Lane Change Assist activates when the turn signal is used and warns the driver if a vehicle in the adjacent lane is approaching too quickly for a safe lane change. Granted, the system's effectiveness depends on a driver actually using the turn signal, but hey, we can all hope.
For more information go to http://www.autoweek.com