Cristiano Ronaldo wins Ballon d'Or 2014
Willie Grace | 1/12/2015, 4:33 p.m. | Updated on 1/12/2015, 4:33 p.m.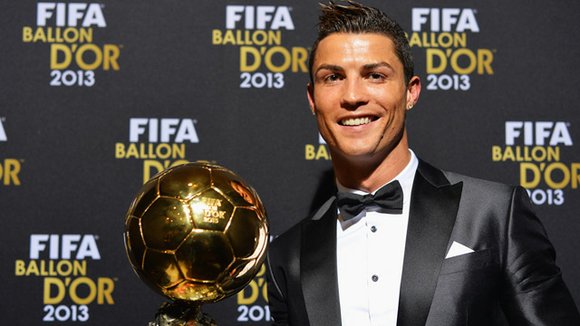 (CNN) -- Cristiano Ronaldo has beaten Lionel Messi to the Ballon d'Or for the second successive year.
The 29-year-old was voted World Footballer of the Year ahead of the Argentina and Barcelona forward and German international and Bayern Munich goalkeeper Manuel Neuer at a FIFA ceremony held in Zurich, Switzerland.
"I would like to thank all of those who voted for me," Ronaldo said after receiving the award.
"It has been an incredible year. I would like to continue the work that I have done so far. I want to try to improve, to become better as each day goes by.
"I never thought that I would bring this trophy back home on three occasions. I want to become one of the greatest players of all time."
Ronaldo, who picked up his first world player of the year award in 2008, was hotly tipped to scoop the title for the third time after completing another spectacular season at Real Madrid.
The Portuguese scored 56 goals in 51 appearances for Los Blancos in all competitions in 2014 and netted a total of 61 goals from 60 appearances during the calendar year.
He was instrumental in helping Carlo Ancelotti's side lift a 10th UEFA Champions League title as well as winning the Copa del Rey and the UEFA Super Cup.
Ronaldo also broke the record for most La Liga hat-tricks in December last year. His three goals against Celta Vigo took him to a total of 23 hat-tricks, one more than La Liga legend Telmo Zarra and Real Madrid icon Alfredo di Stefano. In the same match he also notched up his 200th La Liga goal.
The Portuguese has enjoyed a remarkable La Liga season so far, scoring 26 times in 17 matches for table-topping Real Madrid this season.
Messi, who won the FIFA award for four consecutive years from 2009 to 2012, admitted in an interview at the weekend that it would be "difficult" to win this year when Ronaldo and Neuer had enjoyed such success in 2014 -- the German was a key member of country's World Cup winning side in Brazil and conceded just 40 goals in 62 matches all year.
If nothing else, the trip to Zurich was a welcome distraction from recent speculation about his future at Barcelona.
Rumors have circulated in recent weeks that the Argentine is unhappy at the Nou Camp, but he was quick to dismiss the suggestion that he was thinking of moving to the English Premier League.
Speaking to Barcelona TV after the Catalan club's 3-1 win against Atletico Madrid, Messi said suggestions that he wanted to leave the Spanish giants were "lies."
"I haven't asked for anything to stay here because I have never wanted to go anywhere else. I have also heard that I have spoken to Chelsea and [Manchester] City...but it's all lies," Messi told the Spanish club's TV channel.
Stories circulating that he had bad relationships with former coach Pep Guardiola, former star players including Samuel Eto'o and Zlatan Ibrahimovic and asked for them to be moved on were "in no way true," he said.