Paris kosher market attacker was in U.S. terror database, source says
Willie Grace | 1/12/2015, 4:43 p.m. | Updated on 1/12/2015, 4:43 p.m.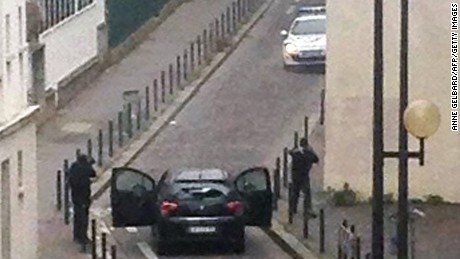 (CNN) -- France was on its highest alert level Monday as people went back to work and children returned to schools following the Islamist terror attacks that killed 17 people.
At least 10,000 soldiers and 8,000 police officers will be deployed across the country, French media reported.
"We must remain vigilant because the threat is still very much present," Prime Minister Manuel Valls told CNN affiliate BFMTV.
Three men blamed for the terrorist attacks are dead.
One of the men -- Amedy Coulibaly, who authorities say carried out the attack at a kosher market -- has been in a U.S. terrorist database "for a while," a senior U.S. law enforcement official told CNN on Monday. The database is officially called the Terrorist Identities Datamart Environment, known as TIDE.
Investigators looking into woman who fled France
A woman alleged to be Coulibaly's accomplice was apparently not in the country last week, according to news reports from Turkey.
The Anadolu news agency reports that Hayat Boumeddiene arrived in Turkey from Madrid on January 2 -- five days before the first attack in Paris. The news agency said she stayed at an Istanbul hotel and then traveled to Syria on Thursday. The last place authorities spotted Boumeddiene was somewhere near Turkey's border with Syria.
Perhaps the clues that could lead to her whereabouts lie in an apartment outside Paris.
There investigators discovered ISIS flags, automatic weapons and detonators at an apartment rented out by Coulibaly, Boumeddiene's partner and suspected co-conspirator, France's RTL Radio reported, citing authorities.
Valls told CNN that authorities are looking into whether Boumeddiene helped prepare the attacks before leaving France.
And there's another concern, a U.S. intelligence official told CNN: Now that she is believed to have escaped to Syria, Boumeddiene could be used in propaganda videos to gloat about the attacks.
Coulibaly may also be linked to a fourth attack. Ballistics suggest a connection between the market killings and the shooting of a jogger last week, Paris prosecutor Francois Molins said. But investigators have not confirmed who shot the jogger, who is reported to be in the hospital with life-threatening injuries.
Brothers Said and Cherif Kouachi are blamed for Wednesday's attack on satirical news publication Charlie Hebdo that left 12 people dead.
Terrorist's wife 'astonished'
The wife of Cherif Kouachi has condemned her husband's actions.
"She condemns every violent act," her attorney, Christian Saint-Palais, said in a statement. "She was astonished when she learned her husband was involved in the Charlie Hebdo attack."
The statement -- which did not include the wife's name -- expressed her sympathies for the families of the victims.
Historic, peaceful march
Some 3.7 million people marched in anti-terrorism rallies Sunday across France, including 1.5 million in Paris.
About 40 world leaders joined in the march in the French capital.
Police said no incidents had been reported despite the record number of people involved in the Paris rally.
Still, French law enforcement officers have been told to erase their social media presence and carry weapons at all times because terror sleeper cells have been activated in the country, a police source said.