H-E-B Names 35 Competitors to the Fifth Annual 2015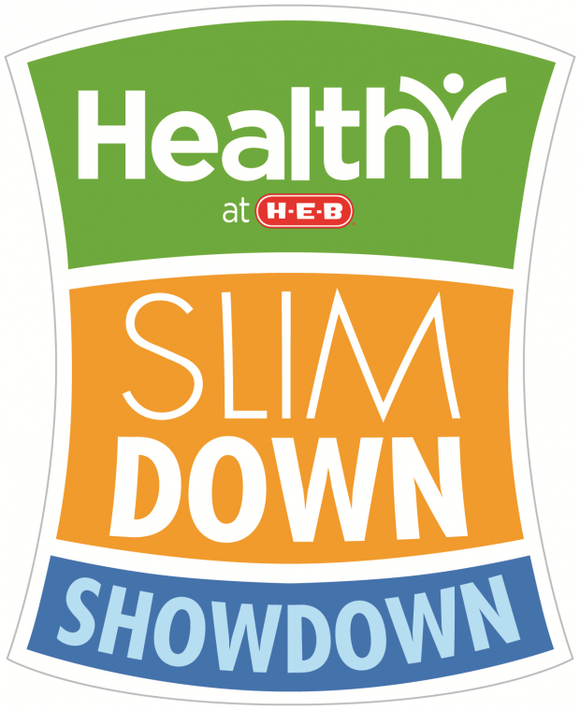 (SAN ANTONIO) — H-E-B has named 35 community members and employees (Partners) from across Texas to participate in the 2015 Slim Down Showdown, bigger and better than ever as it marks its fifth anniversary. The H-E-B Slim Down Showdown, presented by Nestle, Beanitos and belVita, is a 16-week contest designed to provide contestants with the education and tools they need to live a healthier lifestyle, and the chance to win cash prizes.
In the Community Contest, 15 community contestants were chosen to compete for a Grand Prize of $10,000 and a Healthy Hero prize of $5,000. They will embark on a life-changing journey alongside 15 H-E-B Partners who are eligible for a separate Grand Prize of $10,000 and a Healthy Hero prize of $5,000.
As part of the 5th Anniversary Celebration, H-E-B has selected five "Second Chance" Partners (employees) who have previously participated in a past season of Slim Down Showdown. The Second Chance winner will receive $2,500.
The 15 Slim Down Showdown Community Contestants are:
Michael Plata, San Benito
Bonnie Tisdale, McAllen
Janie Ramirez, Edinburg
Darralyn Johnson, Austin
Robin Russelll, Granbury
Nathan Dennis, College Station
Veronica Allen, Houston
David Nungaray, San Antonio
Tamlynn Niemietz, New Braunfels
Cathleen Nogueron, San Antonio
Bobby Mowles, Victoria
Terra Gauvain, Austin
Michael Wise, Katy
Petra Pearce, San Antonio
Clay Jackson, Houston
The 15 Slim Down Showdown Partner Contestants are:
Jose Trevino, Mission
Lettie Tellez, Raymondville
Santos Segovia, Mission
Shay Malcolm, Austin
Rebecca Lockridge, Waxahachie
Courtney Combs, Austin
Brock Hartman, Corpus Christi
Michelle Mathis, Rosenberg
Brandon Singleton, Houston
Daisy Gallegos, Houston
James Griffith, San Antonio
Veronica Jones, San Antonio
Manuel Naredo, San Antonio
Laura Cuellar, San Antonio
Jeremy Peebles, Corpus Christi
The 5 Slim Down Showdown "Second Chance" Partners are:
Jessica Flores, Houston
Douglas Macis, Austin
Albert Moreno, Weslaco
Anastacia Chadis, Corpus Christi
Jacquelyn Ary, Brownsville
Earlier this year, H-E-B invited Texans to apply online at heb.com. Contestants were selected based on their willingness and desire to embrace the program, and to publicly share their journey and the resulting lifestyle changes through blogs, vlogs and social media. Grand Prize winners are selected based on overall health improvement, participation and fan engagement. Healthy Hero winners demonstrate the most progress on health markers such as body mass index, blood glucose and cholesterol levels.
From Jan. 17-23, all contestants will come to San Antonio to participate in Fit Camp, an intensive, weeklong wellness program with experts from H-E-B, Methodist Healthcare and the Cooper Aerobics Center. H-E-B manages the contest, including overall nutrition and fitness education. Methodist Healthcare provides medical oversight and testing for the program and Cooper provides expert speakers for Fit Camp.
Once they return home, contestants will receive one-on-one coaching and support from H-E-B's registered dietitians in addition to their individual meal plans and fitness goals developed during Fit Camp. They also receive a one-year gym membership, courtesy of Gold's Gym, to help them with their fitness routine. Winners will be announced on May 9 at a ceremony at the Henry B Gonzales Convention Center in conjunction with the H-E-B Health & Wellness Family Expo.