Houston Morehouse MLK Event: King Forum "Give Us the Ballot"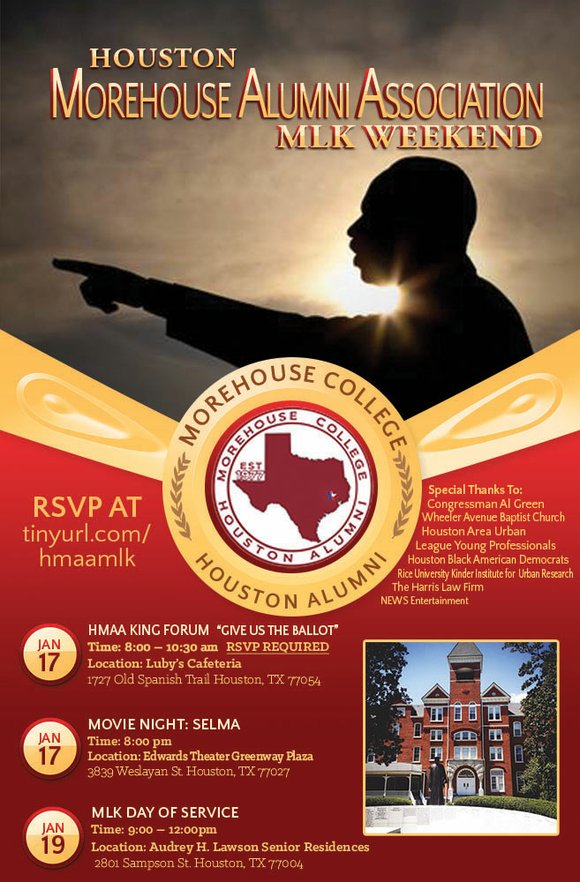 Luby's Cafeteria | 1727 Old Spanish Trail Houston, TX 77054 | 8:00 - 10:30 AM | RSVP Required |
CALLING ALL YOUNG BLACK PROFESSIONALS This year's King Forum will be centered around the importance of voting and how to get more people, especially young adults, involved and engaged in the election process. Dr. Stephen Klineberg, Founding Director of the Rice University Kinder Institute for Urban Research, will give a powerful presentation on the ever-increasing diverse population of the Greater Houston Area. After the presentation, we will have open discussion and create action items to address this issue. Free breakfast will be provided by Congressman Al Green.
Movie Night: Selma
Edwards Theater Greenway Plaza | 3839 Weslayan St. Houston, TX 77027 | 7:45 PM |
Join us as we view the movie that has already garnered four Golden Globe Award nominations, including Best Motion Picture – Drama and Best Director. Selma chronicles the tumultuous three-month period in 1965, when Dr. Martin Luther King, Jr. led a dangerous campaign to secure equal voting rights in the face of violent opposition.
MLK Day of Service
Audrey H. Lawson Senior Residences | 2801 Sampson St. Houston, TX 77004 | 9:00 - Noon |
In partnership with Wheeler Avenue Baptist Church, our service project is the rehab of the Audrey H. Lawson Seniors Residences in the 3rd Ward community. Volunteers will be needed in the areas of painting, and staining.