Museum of Fine Arts, Houston, Unveils Designs for Campus Redevelopment, with more than 70 Percent of Funding Goal Secured
More than $330 million of $450-million capital and endowment fundraising goal achieved to date, primarily from Houston-based philanthropists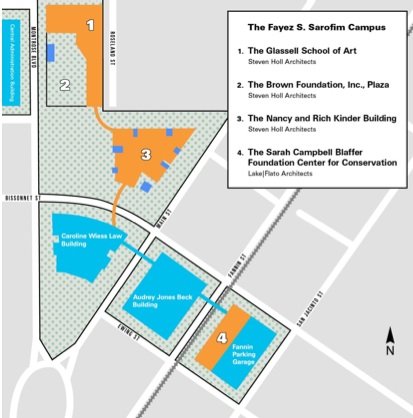 Steven Holl Architects' visionary master plan encompasses 14-acre walkable campus, new gallery building for 20th- and 21st-century art, and new home for the Glassell School of Art
Lake|Flato Architects to design state-of-the-art conservation center
More than $330 million of $450-million capital and endowment fundraising goal achieved to date, primarily from Houston-based philanthropists
HOUSTON—January 13, 2015—At a civic briefing today, the Museum of Fine Arts, Houston, revealed designs for a dramatic redevelopment of its 14-acre campus, including a unifying master plan; a 164,000-square-foot- building for 20th- and 21st-century art; and a new, 80,000-square-foot home for the Glassell School of Art, all by Steven Holl Architects, as well as the preliminary concepts for a state-of- the-art conservation center by Lake|Flato Architects. A landscape architect will also be selected. The project, beginning later this year and slated for completion in 2019, will transform not only the MFAH, but also its surrounding neighborhood, by making a major contribution to Houston's overall efforts to improve the pedestrian experience of the city.
Building upon the Museum's rich architectural legacy, the bold master plan will integrate the new structures into the campus, one already marked by a century's worth of earlier buildings by William Ward Watkin, Ludwig Mies van der Rohe, and Rafael Moneo, and a sculpture garden by Isamu Noguchi. Overarching landscape plans will unify these distinctive architectural elements and create new public spaces, establishing a pedestrian-friendly urban campus that knits together the existing Modernist steel and glass, and Neoclassical limestone, with the translucent forms of Steven Holl Architects' architecture, and the regional Modernism of Lake|Flato Architects.
The Museum also has announced that $330 million—more than 73% percent of its $450-million capital and endowment campaign goal—has been raised to date, as fundraising enters a more public phase. The principal gifts have been provided by Fayez S. Sarofim ($70 million) and the Kinder Foundation ($50 million). Additional lead gifts of $10 million or more have been provided by the Glassell Family; Cornelia and Meredith Long; The Brown Foundation, Inc.; the Sarah Campbell Blaffer Foundation; the Duncan Fund; The Cullen Foundation; The Wortham Foundation, Inc.; and Lynn and Oscar Wyatt. Overall, the Museum has received 86 gifts, nearly half in the amount of $1 million or more. Leading corporate support has been provided by BBVA Compass in the amount of $5 million. The sponsorship is part of the
bank's longstanding commitment to the arts and its partnership with the MFAH.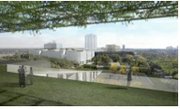 "The Museum of Fine Arts has become a great museum, befitting Houston as a great city. I am very proud to embark on our largest transformation yet, adding to our distinguished existing architectural heritage," said MFAH Director Gary Tinterow. "The development of a dedicated building to house our largely unseen collection of 20th- and 21st-century masterworks, a reimagined Glassell School of Art, and a state-of-the-art conservation center will position us to reshape and reinvigorate the museum experience and the future of Houston's civic life."
"This is the most exciting single project in the history of the Museum, not only marking the completion of the campus but also the Museum for years to come," said Richard D. Kinder, Chairman of the Museum's board of trustees and of its long-range planning committee. "The redevelopment not only completes the Museum but makes the MFAH a center point of the Museum District and, in fact, the cultural hub of Houston."