Ruben Davis' Daughter Traneka's Funeral Brings Hundreds to Fountains of Praise
Burt Levine | 1/14/2015, 7:43 p.m. | Updated on 1/14/2015, 7:43 p.m.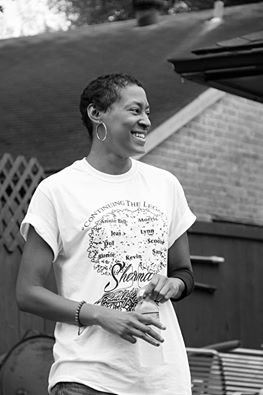 Constable Ruben and Sharon Davis loved their daughter Traneka, 36, with all their being. She was their first child. They were and are a first class close family. Saturday (January 10, 2015) under unrelenting rain hundreds of Constable Davis' colleagues from law enforcement and politics; friends and family in all of Harris and Fort Bend crowded the Fountains of Praise Church to say goodbye to Traneka Davis and console the Davis Family.
"My daughter Traneka Michelle Davis and I enjoyed our last family prayer together. Together we all held hands about how great our God is. She told us that God was going to take her home on New Year's Eve. She said God was ready for her," said a smiling but tearful Constable about his daughter who suffered with Large Diffused B-Cell Lymphoma since 2013.
While the service attracted two US Congress Members, four State Representatives, four City Council Members, four mayoral candidates, the Harris County Sheriff and County Attorney the focus was the strength, warmth, spirituality and wonderment of Traneka and her family's phenomenal multi-generational history of being a solid rock salvation for souls from an entirety of Houston and Missouri City civic and church life. Comedy, usual for a funeral, was also invoked in the services, a tribute to Traneka's career as a comedy television writer in Los Angeles.
Sharon Davis reflected on the love for life her first born had. "I love you so much. The love you brought your dad and me, the respect, and love of God that you possessed was an awesome feat. God has picked the most beautiful rose out of the garden." Sharon continued, "Rest in peace and sit next to granny. My angel, I love you so much!"
Traneka's sister Robin sat up front strong for her parents and remarked, "she is the strongest person I will ever know. She is my best friend; my big sister and I will never know love like what I've known with you. So beautiful and graceful through your entire life, my confidant, I will love you forever and forever carry you with me."
Traneka was born October 11, 1978 and baptized at Blue Ridge Baptist Church in the Sunnyside area of Houston. Story writing was a skill she endeavored, excelled in and began earning awards in at an early age. She graduated from Missouri City Elkins High School and then earned a Stephen F. Austin University Business Administration and Film Studies degree in 2002 before following her heart and always-sunny outlook to Southern California.
Traneka made her mark at CBS working with world famous television shows and then went to Warner Brothers where a high light was going to the 2011 Emmy Awards with the cast of LOST, where she had helped their crew perfect their craft. She turned her 2013 diagnosis into a passion to build nationwide minority bone marrow banks. The Davis family together made that their mission. They traveled the country promoting and then producing bone marrow drives to save the lives of those stricken with blood cancers.
Her grandfather, Ruben Davis, Sr., said his granddaughter had the strength of any superhero times two. "Your aggression to push forward despite odds would outdo any hero I've seen," Davis, Sr., said before his granddaughter was buried at Houston Memorial Gardens on Cullen.

Share this story online at www.stylemagazine.com.