2015 NAIAS: Craftsmanship Defines All-New 2015 Cadillac Escalade
Willie Grace | 1/16/2015, noon | Updated on 1/16/2015, 8:52 a.m.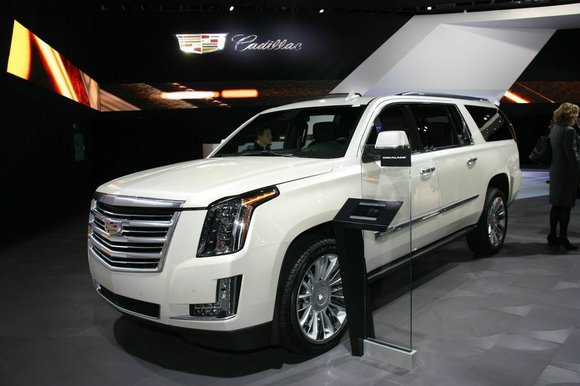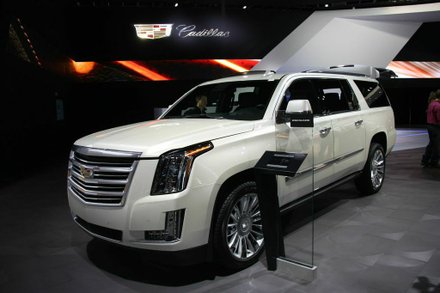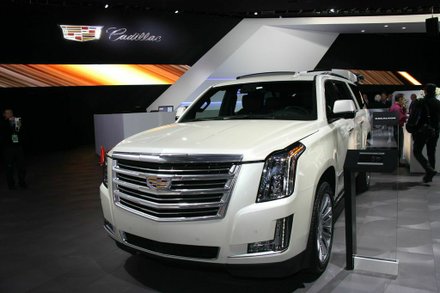 DETROIT – From its introduction in 1999, the Cadillac Escalade quickly became the standard among luxury SUVs with a formula of bold design, powerful capability and luxurious accommodations. The all-new 2015 Escalade takes design and technical elements from Cadillac's product expansion to elevate the brand's signature SUV.
The fourth-generation Escalade has a new exterior design yet is instantly recognizable. Inside, cut-and-sewn materials and wood trim, chosen for elegance and authenticity, combine with the latest technology to convey an exceptional level of luxury.
"Cadillac's ongoing growth provides the ideal stage for the all-new Escalade to take a major step forward," said Uwe Ellinghaus, chief marketing officer, Global Cadillac. "Escalade has always had a bold character, differentiating itself from other luxury SUVs. Now, Escalade adds more sophistication, with advanced technology and hand-tailored craftsmanship."
The product line includes the standard Escalade and the extended-length ESV edition, with offers a 14-inch-longer (355 mm) wheelbase and approximately 20 inches (508 mm) more in overall length, maximizing space for third-row passengers and nearly double the cargo space behind the third-row seat.
Luxury and Premium collections are also available, offering higher levels of content and technology. All models are offered with 2WD and 4WD drivetrains as well as a new 6.2L V-8 engine that is more powerful and more efficient than previous models.
In fact, the new V-8 is powerful enough to enable 0 to 60 mph performance in less than 6 seconds – 5.96 seconds for Escalade 4WD and 5.98 seconds for Escalade ESV 2WD.
The new 6.2L engine also delivers an EPA-estimated 21 mpg on the highway (Escalade 2WD/4WD and Escalade ESV 2WD). That's about 17 percent greater efficiency on the highway than previous models, and also about 17 percent greater efficiency than Mercedes-Benz GL550 (18 mpg) and nearly 24 percent greater than Lexus LX 570 (17 mpg).
Cadillac's Magnetic Ride Control, the world's fastest-reacting suspension system, is standard, delivering precisely controlled driving performance. At its core, Escalade is an SUV with full-size truck capabilities, enabling a trailering rating of 8,300 pounds on the standard model and 8,100 pounds on Escalade ESV. That's more than Mercedes-Benz GL550 (7,800 pounds), Lexus LX 570 (7,000 pounds) and Land Rover Range Rover (7,716 pounds).
Cadillac design
Escalade's new design provides a signature look of quality, elegance and capability. The styling cues combine sculpted surfaces and high technology embellishments to give Escalade a unique and standout appearance.
"At a glance, it is undeniably and unmistakably a Cadillac Escalade," said Bob Boniface, Cadillac exterior design director. "It is powerful in size and presence with integrated technologies that push its design to the leading edge."
A highly detailed Galvano chrome grille that has an almost brushed appearance enhances dynamic front styling cues. F ull light-emitting diode – LED – lighting in the front and rear creates unique, razor-like vertical light signatures. LEDs provide even, steady and very bright illumination while delivering longer life and using significantly less energy than conventional lighting.
The headlamps incorporate the industry's first Total Internal Reflection LED high-beam function, which consists of four vertically stacked crystal lenses and LEDs. The low beam consists of five crystal lenses and LEDs that create the light pattern. The Cadillac script is branded in the headlamp bezel. Tall, thin vertical LED taillamps reach to the top of the Escalade and feature the brand's wreath-and-crest insignia, which illuminates in the dark.