Steuben County Conference & Visitors Bureau Helps Create New Finger Lakes Museum Trail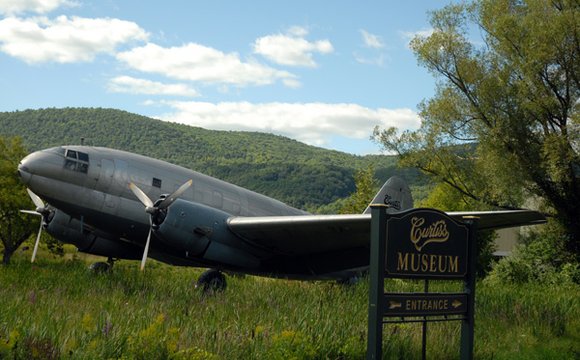 CORNING (Jan. 15, 2015) – The Steuben County Conference & Visitors Bureau is joining nine museums, attractions or historical houses to create the new Finger Lakes Museum Trail, aimed at enticing visitors and residents alike to explore the rich history and culture of the region.
The partnership is a project of the Finger Lakes Tourism Alliance, based in Penn Yan, and the Steuben County Conference and Visitors Bureau, based in Corning.
Renowned for its wineries and natural beauty, the Finger Lakes Region is also blessed with an abundance of world-class museums. From learning about George Eastman's photographic accomplishments in Rochester to seeing the world from a bird's-eye view at the National Soaring Museum in Elmira, the museums of the Finger Lakes are entertaining, educational, enchanting and exciting.
"We are excited to be part of this pilot project," said Peggy Coleman, president of the Steuben County Conference & Visitors Bureau. "Each museum has its own unique story to tell. By working together, not only do they offer visitors a more enriched experience, but they help build additional visitation at a traditionally slow time of year."
The Finger Lakes Museum Trail debuts with nine participants: the George Eastman House and The Strong in Rochester, Historic Palmyra's Five Museums, the Brick Tavern Museum of the Schuyler County Historical Society in Montour Falls, the International Motor Racing Research Center in Watkins Glen, the Finger Lakes Boating Museum and the Glenn H. Curtiss Museum in Hammondsport and the National Soaring Museum and the Chemung County Historical Society in Elmira.
To kick-off this new endeavor, the Finger Lakes Museum Trail is offering a chance for trail visitors to win an overnight stay for two at a bed and breakfast inn in the region. Each participating facility is also offering discounts on admission, gift items or both. The "Winter Adventure" promotion will run through June.
"Visitors to the Finger Lakes will find that the region is steeped in culture, art, science and history. For example, events and developments in the Finger Lakes have had great influence on many of notable national historical milestones," Cindy Kimble, president of the Finger Lakes Tourism Alliance, said.
"It's all celebrated at museums or similar facilities throughout the region. Many are accredited by the American Alliance of Museums, demonstrating the caliber of these operations. These are museums and attractions that no visitor – or local resident, for that matter – should miss," she added.
A visitors guide with "Winter Adventure" discount details is available at each participating facility, as well as other locations across the region. Information also is available online at www.FingerLakes.org/things-to-do/Museum-trail.com.
The Steuben County Conference & Visitors Bureau was established in 1994. As Steuben County's official tourism marketing agency, our mission is to aggressively promote the visitor industry year-round and thereby stimulate economic growth. Steuben County is home to the World's Most Beautiful Wine Region (Budget Travel), America's Coolest Small Town: Hammondsport (Budget Travel), and one of the Most Fun Small Towns: Corning (Rand McNally). It has also been recognized as a top value destination (ShermansTravel).
For more information, visit www.FingerLakes.org/things-to-do/Museum-trail.com.