Dr. Shel Named 2015 Women's Chamber of Commerce of Texas: "Texas Blazing Star"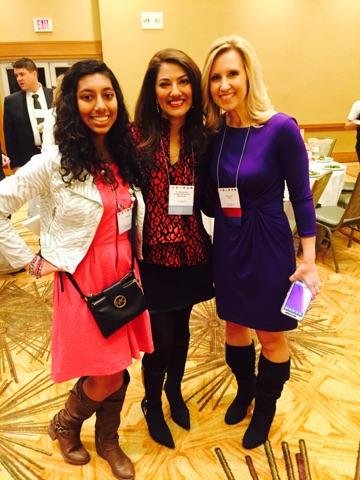 HOUSTON (January 22, 2015) - The Women's Chamber of Commerce of Texas announced that Dr. Shelena Lalji, founder and medical director of Dr. Shel Wellness & Medical Spa, has been presented the Women's Chamber of Commerce 2015 Blazing Star Award.
The Blazing Star Awards were announced at the MAPcon + TBOY Conference and Awards event on January 15, 2015 in Austin, Texas.This prestigious distinction recognizes business women who are on the fast track to success, and follow their own path to get there. The event is presented by the Women's Chamber of Commerce of Texas and is known as the "Academy Awards" for Texas business women. The coveted awards are given to business owners and professional women in Texas, whose style and drive go above and beyond setting them apart from the crowd.
"It is an honor and privilege to serve women in Texas and around the globe", said Dr. Shel. "My mission is to empower them to live their best life possible...mind, body and spirit."
Dr. Shel is an internationally-recognized expert whose passion for women's health led her to create Dr. Shel Wellness & Medical Spa. Dr. Shel uses a unique approach to balancing patients' inner and outer health through preventative and integrative aspects of medicine, cutting edge technology and treatments. She focuses on patient education as well as treatment and emphasizes the connection between the art of beauty and the science of wellness. Dr. Shel has been fortunate to treat tens of thousands of patients over the past 20 years including local and national celebrities such as Grammy Award winners to NFL players.
Dr. Shel has served the greater Houston area for over 17 years and is an honor graduate from Emory University in Atlanta where she became board certified in Obstetrics and Gynecology. Dr. Shel continued her postgraduate training at the Medical College of Georgia in the Department of Obstetrics and Gynecology. After 13 years of concentrated traditional OB/GYN practice, Dr. Shel left one of the most prominent medical industries and began on the path to create a niche, and fulfill the demand in Houston and surrounding communities for wellness services. Over time Dr. Shel collected patients' countless testimonies to the benefits of her holistic and comprehensive approach to treating women and authored "I Am Woman: Our Journeys to Health, Happiness and Harmony".
In addition to being a national spokesperson for wellness and aesthetics and a busy practitioner, Dr. Shel still finds time to devote herself to her two lovely children, Zoe and Zade, and her supportive husband, Dr. Ayeez Lalji.
To learn more about the MAPcon +TBOY awards, please call 512-338-0839 or visit www.womenschambercommerce.com.
About Dr. Shel
Dr. Shel is an author, speaker, medical doctor, wellness leader and founder and medical director of Dr. Shel Wellness & Medical Spa located at 1437 Texas 6 #100, Sugar Land, TX 77478. The wellness and medical spa is a unique wellness center combined with a state-of-the art medical spa. Deemed one of the most unique, upscale and comprehensive facilities of its kind in Texas, patients and physicians alike travel to the serene location for its innovative wellness and aesthetic technology. For more information or to book an appointment, please call (281) 698-7435 or visit www.drshel.com and follow us on Facebook, Twitter and YouTube.