Sylvester Stallone Gave These Philly Fans The Best Rocky Experience Ever
Willie Grace | 1/22/2015, 8:51 a.m. | Updated on 1/22/2015, 8:51 a.m.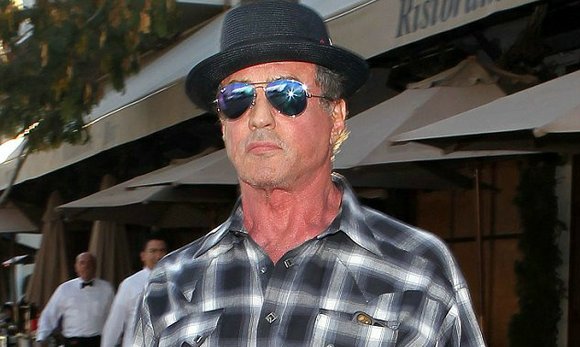 Any Rocky fan who has ever visited Philadelphia will have almost certainly taken a photo at the top of the Philadelphia Museum's staircase, raising their arms in triumph for a photo op. But all of these Rocky inspired images will now pale in comparison to the one taken by a group of tourists in the city on Saturday, which featured Rocky Balboa himself, Sylvester Stallone.
According to the Associated Press, Peter Rowe and his two friends, Jacob Kerstan and Andrew Wright, found Sylvester Stallone standing at the top of the art museum's steps when they went to the location to pay their respects to the iconic sports film. In fact the three men were racing up the stairs to see who could reach the summit first when the came across the actor. After being greeted by Stallone, he quipped to the trio, "Man, you guys are fast. You're making me look bad." As you can probably imagine, each of them almost collapsed in shock at seeing the action behemoth in the exact same location as the character to whom they were there to doff their caps.
In order to prove that the incident actually took place, while simultaneously winning the respect of all of their friends on Facebook, Twitter et al, the trio then asked for a selfie with Sylvester Stallone. He duly obliged, while also raising one fist to the air. Wright and Kerstan were actually visiting the area from Los Angeles, but they insisted that this was the first celebrity that they'd ever come across.
For the uninitiated, Sylvester Stallone made this series of steps famous thanks to the training montage in 1976's Rocky. This saw Rocky Balboa run through the city of Philadelphia in an attempt to bulk up his fitness, and prove his resolve ahead of his fight with Carl Weathers' Apollo Creed.
It's truly a beautiful moment. I'm guessing that I'm not the only one holding back tears here. Sylvester Stallone is currently in Philadelphia to shoot Creed, the seventh installment to the Rocky franchise. The Fantastic Four's Michael B. Jordan is portraying the grandson of Apollo Creed, while Sylvester Stallone's Rocky Balboa will feature as the burgeoning boxer's mentor. Fruitvale Station director Ryan Coogler, who worked with Jordan on the 2013 drama, is overseeing the project. And if he can pack in even an iota of the tension and pathos of Fruitvale Station while also once again getting the best out of his star, then Creed should be a hit. At this point, we're still not too sure when the movie will actually be released, but it's expected to hit cinemas in 2016.
For more information go to http://www.cinemablend.com