In March 2015, For a New World to Come: Experiments in Japanese Art and Photography, 1968–1979 Debuts in Houston
More than 250 works include major loans and many never seen by U.S. audiences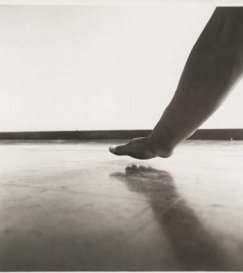 HOUSTON—January 2015— The years from 1968 to 1979 in Japan are among "the missing pages in history," according to influential architect Arata Isozaki, a time when the activist generation of the 1950s and 1960s was replaced by introspective young artists, writers, and intellectuals. In March, the Museum of Fine Arts, Houston, attempts to fill some of these missing pages by examining the role of photography in the formation of Contemporary art in Japan.
For a New World to Come: Experiments in Japanese Art and Photography, 1968–1979 presents some 250 works: photographs, photo books, paintings, sculpture, and film-based installations. The unprecedented survey demonstrates how 29 Japanese artists and photographers enlisted the camera to make experimental and conceptual shifts in their artistic practices during a time of radical societal change. The exhibition debuts at the Museum of Fine Arts, Houston, where it will be on view from March 7 to July 12, 2015.
"This groundbreaking exhibition draws from the Museum's permanent collection and initiates partnerships with institutions in Japan, including the National Museum of Modern Art, Tokyo, and the Tokyo Metropolitan Museum of Photography, that enable us to bring important experimental works outside of Japan, in this context, for the first time," said Gary Tinterow, Museum director. "The Museum of Fine Arts, Houston, is thrilled to introduce American audiences to this period of Japanese art, previously little known outside of that."
"Japanese art and photography in the 1970s was characterized by an intense search for new directions," said Yasufumi Nakamori, associate curator of photography, who organized the exhibition. "For a New World to Come sheds light on these shifts, while unveiling photography's importance in modern-day Contemporary and Conceptual art in and beyond Japan."
Exhibition in Context
The late 1960s and early 1970s marked a period of political and social turmoil in Japan. In the wake of the years following World War II, the country was struggling to forge a new identity on the world stage while still bridling under U.S. occupation, and Japanese artists were seeking a medium that could adequately respond to these uncertain times. By the 1970s, a group of artists had devoted themselves to experiments with the camera, individually searching for new directions in their traditional media-based practices and using the camera as a conceptual, experimental, and personal intermediary in the production of art.
For a New World to Come explores in depth, for the first time, the relationship between art and photography during this period. The exhibition addresses five loosely organized tendencies:
 Images of student protests and the underground art world by photographers. Artists represented include Shunji Dodo, who photographed the fall of the student protesters' barricade at Kyushu University (1969); Shōmei Tōmatsu, whose Oh! Shinjuku series (1970) captures protesters and underground theater actors in Tokyo's Shinjuku district; Toshio Matsumoto, whose triple-projection film and sound installation, For the Damaged Right Eye (1968), portrays student protests and underground subcultures in Tokyo; and various members of Provoke, an independent photography journal known for its radical departure from conventional documentary and fine-art photography, including Daidō Moriyama, Takuma Nakahira, and Yutaka Takanashi. Image: Toshio Matsumoto, For the Damaged Right Eye (film still), 1968, Triple 16 mm film (transferred to DVD), color, 12 minutes, 9 seconds, collection of the artist.