$525,000 Grant Will Help Support STEM Education in Alabama Grade Schools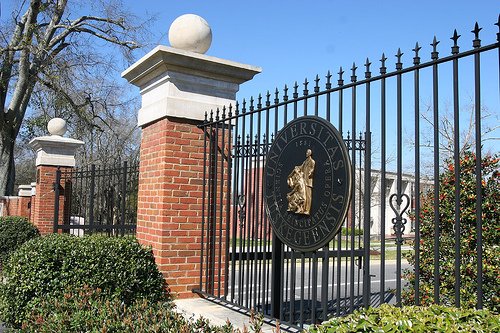 TUSKEGEE, Alabama (January 26, 2015) —The Alabama pipeline to future science, technology, engineering and math (STEM) careers will soon get even stronger with Tuskegee University's help. National promotion of STEM and preparation for higher education have been top priorities for President Barack Obama's administration and the focus of Tuskegee's grant is to provide a strong STEM foundation to local students in Macon County so they are prepared to engage in college level studies.
The Department of Energy (DOE) has awarded Tuskegee $175,000 per year for three years to bring learning activities and tutorials the university's students and children in local K-12 schools. For Tuskegee students, the funds will help build critical thinking skills with a new Peer Group Tutorial. The grant will also help establish an outreach program with local K-12 schools that will feature a STEM Saturday academy and hands-on science projects for middle school students.
Dr. Ben Oni, the principal investigator for the grant and associate profess in the Electrical Engineering Department, said the tutorial program for the grade school students would be for 12 weeks in the spring and fall semesters. Held on Saturdays, the program will reinforce chemistry, physics, and math skills. High school math and science teachers as well as Tuskegee University students will serve as tutors.
"Tuskegee University shares the same community with local students. Naturally, the Tuskegee Family's first instinct is to reach out to the immediate community members," Oni said.
The grant is part of the Consortium on Materials and Energy Studies, which aims to support National Nuclear Security Agency (NNSA) goals relevant to the Department of Energy national laboratory energy and materials missions. The consortium's primary purpose is to increase minority hires at the DOE national laboratories.
To learn more about the program, contact Dr. Ben Oni at: oni@tuskegee.edu or 334-727-8990.
About Tuskegee University
Founded in 1881 by Booker T. Washington, Tuskegee University is home to approximately 3,000 students from the U.S. and 30 foreign countries. The academic programs are organized into seven colleges and schools: 1.) Andrew F. Brimmer College of Business and Information Science, 2.) College of Agriculture, Environment and Nutrition Sciences, 3.) College of Arts and Sciences, 4.) College of Engineering, 5.) College of Veterinary Medicine, Nursing and Allied Health, 6.) Robert R. Taylor School of Architecture and Construction Science, and 7.) School of Education.
Tuskegee University is accredited with the Southern Association of Colleges and Schools Commission on Colleges to award baccalaureate, master's, doctorate, and professional degrees. The following programs are accredited by national agencies: architecture, business, education, engineering, clinical laboratory sciences, nursing, occupational therapy, social work, and veterinary medicine.
To learn more about Tuskegee University, go to: www.tuskegee.edu.