Blizzard of 2015: What to know if you're traveling
Willie Grace | 1/26/2015, 9:20 p.m. | Updated on 1/26/2015, 9:20 p.m.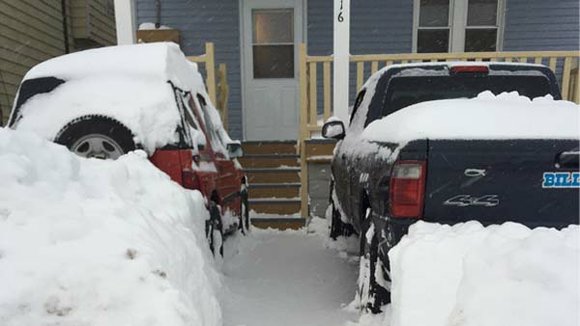 NEW YORK (CNNMoney) -- Thousands of flights are canceled. Rail lines and roads are closed. The Northeast is getting walloped by a blizzard.
A potentially "historic and destructive" nor'easter is blowing through New Jersey, New York and Massachusetts -- including New York City and Boston -- crippling the ability to travel for the approximately 58 million people in its path.
Some forecasts call for up to three feet of snow through Tuesday afternoon. Governors and mayors in the northeast warned people to hunker down at home and announced an ever-growing list of closures.
Travel analysts at masFlight estimated some 250,000 travelers were affected by the more than 6,900 flight cancellations alone.
If you were planning on traveling by plane, train or automobile this week, here's what you need to know:
By train:
--Amtrak: The rail line canceled all Tuesday trips on several of its busy lines in the Northeast. It suspended Northeast Regional and Acela Express trains between New York and Boston, as well as Empire Service, Amtrak Downeaster, Vermonter and the Springfield line. The Lake Shore Limited and trains between New York and Washington, D.C., will conduct only partial service on Tuesday, Amtrak said. More from Amtrak.
--New Jersey Transit: The last trains and buses were scheduled to depart at 8 p.m. Monday with service to be fully closed by 10 p.m.
--New York City Transit: The nation's largest single public transport network said it sent additional trains to certain commuter lines Monday afternoon to accommodate "customers who want to leave work early." All service ends at 11 p.m. on Monday night, the transit authority said.
By road: The storm is expected to make for slick roads, including along major highways like I-70, I-80 I-84 and I-95.
--Connecticut: Roads close at 9 p.m. Monday.
--New York City: Roads, including bridges and tunnels into the city, close at 11 p.m. Monday.
--Massachusetts: Road close at midnight, and cars parked on major roads in Boston after 6 p.m. will be towed.
--Philadelphia: Cars parked on major city streets after 6 p.m. will be towed.
By plane: As of Monday evening, more than 2,800 flights on Monday and more than 4,100 flights on Tuesday had been canceled, according to the tracker service FlightAware, with the three major airports in the New York area among those most affected. Those cancellations will ripple out through the country and it will likely be days before service is back to usual.
--American Airlines and U.S. Airways: American is planning for only "very limited operations (on Tuesday) in the Northeast," including in Boston, New York and Philadelphia. The airlines will let customers flying to or from two dozen airports in the region rebook reservations made for Monday and Tuesday without a fee. More from American. More from U.S. Airways.
--Delta Air Lines: The airline canceled all flights out of the three major New York-area on Tuesday after canceling approximately 600 flights scheduled for Monday. Customers were urged to rebook flights, and the airline said it would do so without no extra fee. More from Delta.
--Frontier Airlines: Customers traveling from airports in Pennsylvania, New Jersey, New York, and the Washington area may rebook without penalty. More from Frontier.
--JetBlue: Flights in and out of the Northeast were canceled on Tuesday, and customers were allowed to rebook. More from Jet Blue.
--Southwest Airlines: The airline said late Monday it had canceled at least 130 flights scheduled for Monday, 300 flights on Tuesday and 50 flights on Wednesday. It said customers traveling to and from the Northeast could reschedule without a fee. More from Southwest.
--Spirit Airlines: Travelers arriving at or departing from nine airports in the Northeast may reschedule their travel between now and February 3.
--United Airlines: The airline had limited operations on Monday and said it would cancel all flights on Tuesday at Newark (a key hub in its operations), LaGuardia and JFK, as well as Boston and Philadelphia.
--Virgin America: Travelers headed into or out of Boston, New York, Newark or Washington airports on Tuesday may change their reservation without fees. More from Virgin America.
--CNN's Aaron Cooper, Stephanie Gallman and Rene Marsh contributed to this report
For more information go to http://www.cnn.com