Houston Symphony Announces 2015-2016 Season
Music Director Andrés Orozco-Estrada's second season features world premieres, orchestral masterpieces, artistic collaborations, multimedia concerts and renowned guests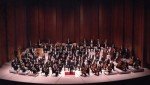 HOUSTON (January 24, 2015) – Music Director Andrés Orozco-Estrada and Executive Director and CEO Mark C. Hanson today announced the Houston Symphony's 102nd Season, comprised of a full slate of classical, POPS, family, community, education and multimedia performances, as well as recordings, collaborations, international partnerships and an expanded global presence.
In his second season as Music Director, Orozco-Estrada will build on the powerful artistic bond he has cultivated with Houston Symphony musicians, which has already resulted in dynamic performances and record ticket sales. Classical performances in his inaugural season have resulted in 14% more individual ticket buyers, representing more diverse ethnicities than ever before in the orchestra's history. Orozco-Estrada carefully curates his programs to feature engaging combinations of classical masterworks paired with the music of today, significant artistic collaborations with composers and guest artists, innovative use of multimedia and visual effects and meaningful connections with the audience.
"Throughout my inaugural season, I began to establish a unique musical language and relationship with the orchestra, which we continue to strengthen with every performance," says Orozco-Estrada. "In my second season, I look forward to creating even deeper connections with a diverse community that has already embraced me from all corners of the city. I invite every Houstonian to experience a Symphony concert, and allow their eyes and ears to see and hear the beautiful universe that is an orchestra."
"The Houston Symphony and Andrés share a commitment to building our audiences and serving our entire community," said Executive Director and CEO Mark C. Hanson. "And as one of the crown jewels in our city's cultural community, it is increasingly important that we are on the minds and in the hearts of all Houstonians. As Andrés always says, our orchestra is for everybody, in Houston and beyond, and he and our outstanding musicians have created a deep and artistically exciting partnership that has captured the attention of our public. It's a thrilling time at the Houston Symphony – and as we look ahead into our next century of exceptional music-making, we're collectively focused on providing the most extraordinary and inspirational concert experiences to engage, entertain and enrich people in our community and beyond."
The season was announced at Jones Hall and featured a special broadcast on Houston Public Media's TV 8 as well as a brief performance by Houston Symphony musicians. The season announcement special, hosted by Classical 91.7's St.John Flynn and co-hosted by Mark Hanson, featured interviews with Music Director Andrés Orozco-Estrada, Principal POPS Conductor Michael Krajewski, and Associate Conductor Robert Franz as well as commentary from Houston Symphony musicians. The special broadcast was also available via a live streaming webcast.

2015-16 CLASSICAL SEASON OVERVIEW
Opening Night
World-famous violinist Joshua Bell returns to the Houston Symphony to open the 2015-16 season on September 12, 2015, performing William David Brohn's West Side Story Suite, an arrangement of Leonard Bernstein's classical score that was written especially for Bell. The Opening Night Concert at Jones Hall and Gala at The Corinthian are chaired by Janet Clark and generously supported by ConocoPhillips, the lead corporate supporter of the Opening Night Concert and Gala for 39 consecutive years. The concert is a stand-alone performance outside of the subscription series.