"Waiting For Johnny Depp" Surprises with Sure Delight!
Just how far would you go to be in a film with Johnny Depp?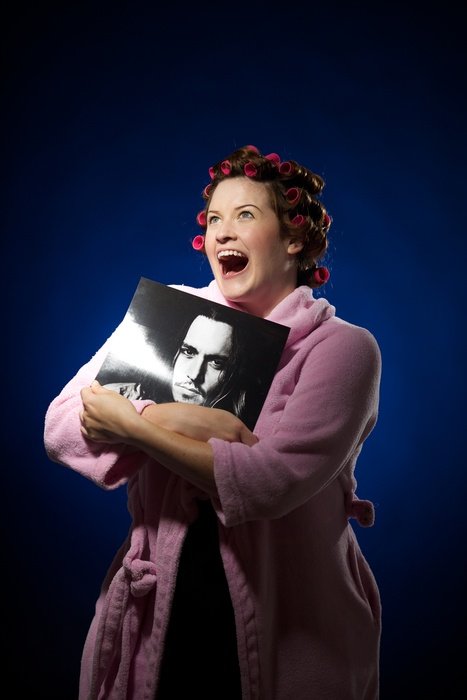 This weekend TUTS Underground presented their highly-entertaining, edgy musical Waiting for Johnny DEPP. The whimsical and spirited musical was written and arranged by a host of talented composers and songwriters. Composer Janet Cole-Valdez is an award-winning musical theatre writer, Gold Record artist, and former Motown songwriter who teamed up with Deedee O'Malley, a multi-award winning singer, songwriter, actress and dancer to bring us this world premier theatrical hit.
"Waiting for Jonny Depp," is a one-woman musical show starring Brooke Wilson as the zany Rita Donatella, a struggling actress from NY currently obsessed (sometimes hilariously delusional) with landing a movie role featuring movie mega star Johnny Depp. The story details many adventures and sacrifices actors go through for their craft, while teaching us a valuable lesson on what is really important in life. The show depicts the main character triumphs and turmoil's as she sacrifices everything she values including her family, friends, favorite things, and even herself to land this infamous role. It is a story that is funny, and emotionally gut wrenching as you see her dreams of being rich and famous flicker and fade. The show features several catchy, memorable musical tunes such as W.T. F., Craig's List, and I'll Do Anything for My Craft.
Brooke Wilson, a local actor from Houston, is brilliant in this role as Rita Donatella. It takes an exceptional talent to perform a one women show. Wilson is a true triple-threat, flawlessly singing, acting, and dancing her way throughout the entire production. She manages to keep the audience engaged with her character's quick humor and hilarious monologues. There are bits of audience participation and adlibs as well so you are in for a delightfully, funny, provocative treat! However be warned that the show features catchy tunes with profanity-riddled hooks such as: Kiss my ASS, and W.T.F. so this is definitely material for a mature audience.
The show, a new production of TUTS Underground, is the wonderful concept of Artistic Director Bruce Lumpkin, whose goal is to bring Houston audiences more affordable and edgier musicals. Waiting for Johnny Depp was such a surprise! I rate it a must see, so grab a friend or two and leave the kids at home. You will be in for a spirited, funny as hell, rousing night well spent!
The Houston premiere of Waiting for Johnny Depp, The Zany Adventures of an Actress Up for the Role of A Lifetime; is currently running at Zilkha Hall in The Hobby Center for the Performing Arts, January 22nd- through January 31st so hurry and get your tickets now!
Tickets for Waiting for Johnny Depp are $25 to $49 and can be purchased online at www.tutsunderground.com or by phone at 713-558-TUTS.