"An Evening of Sax and Soul" Featuring Saxophonist Dean James with Special Guest Ty Causey Saturday, February 14, 2015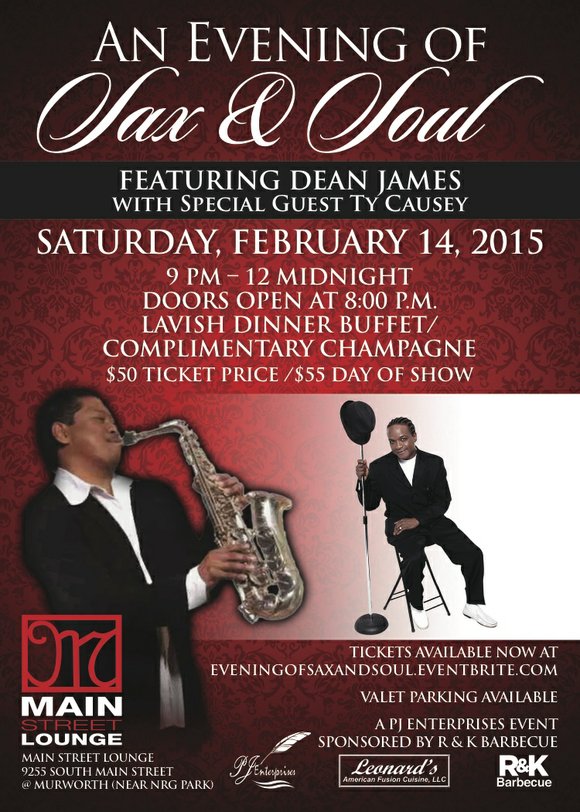 HOUSTON, TX – "An Evening of Sax and Soul" featuring renowned saxophonist Dean James with special guest R&B vocalist Ty Causey will be live in concert on Saturday, February 14, 2015 at Main Street Lounge, 9255 South Main Street @ Murworth from 9 p.m. until 12 midnight. Doors open at 8:00 p.m. The event will feature a lavish dinner/dessert buffet prepared by Chef Leonard of American Fusion Cuisine, LLC and complimentary champagne. Tickets are available at http://aneveningofsaxandsoul.Eventbrite.com. Tickets are $50 in advance and $55 day of show.
Dean James has become one of the most versatile saxophonists of the genre we call Smooth Jazz. Having released 4 cd's as a solo artist, James is currently embarking on his 5th solo project "GROOVYSAX" to demonstrate his soulful performances on both alto & soprano saxophones with a unique blend of Smooth Jazz, R&B, Latin and Pop music that sets apart his own signature style and sound. James was born and raised in San Francisco and attended the Berklee College of Music where he studied both Jazz and Classical Music. James became a sideman on the Gospel circuit for the late Daniebelle Hall, Daryl Coley and Rickey Grundy. James also became a sideman for R&B artists Vesta, Cherelle, Miki Howard and Gary Taylor. He has shared the stage with artists such as Norman Connors, Jean Carne, Peter White, Bobby Lyle, Joe Sample, Kevin Toney, Bob Baldwin and a host of other mainstream artists. Some of his most popular releases are "Can We Talk", "Intimacy" and "Brighter Days". He is a frequent performer at most of the National Jazz Festivals and has made several TV appearances to showcase his talents on the saxophone.
Ty Causey began his career as many artists do, singing in the church. The Indiana native's talents as a singer, songwriter and performer have given him the opportunity to perform with gospel music icons James Cleveland, The Hawkins Singers and other notable artists. As a lead vocalist, Ty has opened for Glenn Jones, Silk, Howard Hewett and others during the mid and late 90's. While building a solid reputation for himself as a singer/songwriter, he captured the attention of noted contemporary jazz saxophonist Najee. Najee invited Ty to California to co-write and perform on his Morning Tenderness project and became a featured performer on Najee's worldwide Morning Tenderness Tour! Ty has shared the stage with Pieces of a Dream, Norman Brown, Take Six and Houston's own Joe Sample. Ty released his debut album N-Tysing in 2004 featuring Najee and Bassist Nelson Braxton of the duo Braxton Brothers. Since that time Causey has released 4 acclaimed CD's that resulted in nominations for Male Vocalist of the Year in 2005 ("Lovenotes"), 2007("Expressions") and 2009("True Love in Motion") from leading on-line soul music spot Soultrack.com. All of his projects have made the playlist on stations both domestically and abroad in the UK, Japan and Germany. In 2010, Causey released his strongest album to date, "Down II Earth" and landed as a Male Vocalist of the Year finalist again on Soultracks.com. He has opened for Boney James, Babyface, Peter White as well as performed at the Blue Note in New York, House of Blues in Chicago and the Convention Center in Atlanta. He has been deemed "A cross between Donny Hathaway and Marvin Gaye" – that old school flavor with the taste of new school R&B.

Tickets are available now at http://aneveningofsaxandsoul.Eventbrite.com.