Mormon church backs LGBT rights -- with one condition
Willie Grace | 1/27/2015, 6:14 p.m. | Updated on 1/27/2015, 6:14 p.m.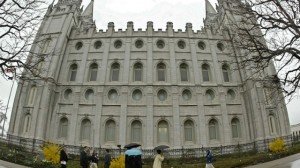 (CNN) -- In at least one big and bruising culture-war battle, the Mormon church wants to call a partial truce.
Convening a rare press conference on Tuesday at church headquarters in Salt Lake City, Mormon leaders pledged to support anti-discrimination laws for gays, lesbians, bisexuals and transgender people, as long the laws also protect the rights of religious groups.
In exchange, the Mormon church wants gay rights advocates -- and the government -- to back off.
"When religious people are publicly intimidated, retaliated against, forced from employment or made to suffer personal loss because they have raised their voice in the public square, donated to a cause or participated in an election, our democracy is the loser," said Elder Dallin Oaks, a member of the church's Quorum of Twelve Apostles.
"Such tactics are every bit as wrong as denying access to employment, housing or public services because of race or gender."
The Mormon church is one of several religious groups to complain about religious freedom coming under "attack" in recent years. The Catholic church and Southern Baptists, among other evangelicals, have sounded the alarm as well.
Oaks cited several examples on Tuesday, including:
The mayor of Houston subpoenaing sermon notes last year from pastors who opposed an equal rights ordination. The subpoena was later dropped. Public pressure on a Mormon gymnast to step down as an Olympic liaison in 2011 because he had supported California's Proposition 8, which banned gay marriage in 2008. In 2014, Mozilla CEO Brendan Eich was forced to resign because he had donated money to support the passage of Prop 8.
"It is one of today's great ironies that some people who have fought so hard for LGBT rights now try to deny the rights of others to disagree with their public policy proposals," said Oaks.
Tuesday's offer doesn't change church doctrine -- including its opposition to gay marriage, Mormon leaders said.
"But we are suggesting a new way forward in which those with different views on these complex issues can together seek solutions that will be fair to everyone," said Elder D. Todd Christofferson, a member of the Quorum of Twelve Apostles, one of the church's top tiers of leadership.
Officially known as the Church of Jesus Christ of Latter-day Saints, the Mormon church, like other religious groups, has tried to strike a delicate balance on gay rights.
Mormons have fought the legalization of same-sex marriage, for example, while trying to avoid the "anti-gay" label sometimes affixed to conservative faiths. Many church members were particularly stung by the fierce backlash to Prop 8. The Mormon-backed referendum was later struck down in court.
Nearly two-thirds of Mormons say homosexuality should be discouraged by society, according to a 2012 survey conducted by the Pew Forum on Religion & Public Life. The church's official position is that same-sex attraction is not a sin, but acting on it is.
At the same time, Mormon leaders have taken an increasingly civil tone towards gays and lesbians in recent years, and gay rights groups cheered the church for endorsing the Boy Scouts' decision to allow gay scouts in 2013.