Was media booted from trial of Kendrick Johnson's parents?
Willie Grace | 1/27/2015, 6:20 p.m. | Updated on 1/27/2015, 6:20 p.m.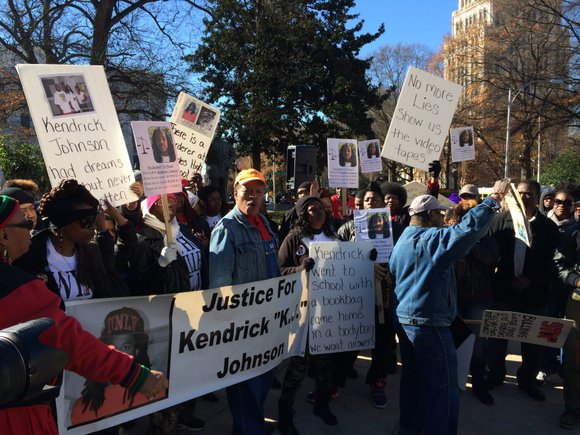 (CNN) -- Opening statements begin Tuesday in the trial of Kendrick Johnson's parents in a case growing increasingly controversial after reports that a Georgia judge had the media removed from his courtroom.
Exactly what happened is unclear, as The Valdosta Daily Times reported that its reporter, a citizen journalist and two television reporters were escorted out of the courtroom by a Lowndes County Sheriff's Office deputy who said she was following State Court Judge Mark Mitchell's order and offered no further explanation.
However, the Johnsons' attorney, Chevene King, said that only CNN affiliate WCTV-TV had its reporter booted from the courtroom. WCTV had no reporting to that effect on its website, nor did CNN affiliate WTXL-TV.
A clerk in Mitchell's office referred questions to Lowndes County clerk Beth Copeland Green, whose office told CNN she was in court and not immediately available Tuesday morning.
Mitchell, a judge from Thomas County, is presiding over the case after Lowndes County Superior Court judges recused themselves from all proceedings involving the Johnsons in order to maintain fairness.
Johnson's mother and father, along with five other relatives, are in court on misdemeanor charges related to a 2013 protest. Jury selection wrapped up Monday, and opening statements were scheduled to begin at 9 a.m. Tuesday.
One black juror and five whites compose the six-man jury, WCTV reported. The alternate is also black, the station said.
The "KJ 7," as the defendants are known, each face a charge of interference with government property for allegedly blocking the entrance to the Lowndes County Courthouse in Valdosta and blocking access to the security checkpoint inside the building.
The demonstration was planned after Johnson's parents became frustrated with the lack of information they had received from local investigators regarding their son, who was found dead inside a rolled gym mat at his South Georgia high school in January 2013, King said.
Footage published on YouTube shows authorities arresting family members who held hands, blocking a door to the courthouse. Another video posted to a Kendrick Johnson tribute page on Facebook shows family members later, inside the courthouse, joining hands in front of the checkpoint. The family and others can be heard chanting, "No justice, no peace," as officers step in to arrest them.
The relatives were arrested and released on bond in the April 25, 2013, incident, King said.
"It wasn't until seven days after that protest that the Lowndes County Sheriff's Department released the investigative file of the teen's death," King said.
All seven have pleaded not guilty.
Upon her release from jail, the same evening she was arrested, Jacquelyn Johnson told WCTV, "I'm going to be right back out at the courthouse in the morning, ready to do it all over again, until we get justice."
Each of the seven family members could face up to a year in prison, a $1,000 fine, or both.
There are no plans to entertain any potential plea deals, King told CNN.
In May 2013, the Lowndes County Sheriff's Office announced it was closing its investigation into Johnson's death after determining Johnson, 17, slipped into the mat while reaching for a shoe and got stuck. An autopsy completed by the Georgia Bureau of Investigation concluded Johnson died of accidental positional asphyxia.
Months later, a pathologist hired by the Johnsons conducted a second autopsy, found evidence of "unexplained, apparent non-accidental blunt force trauma" to the 17-year-old's neck and concluded the death was a homicide.
In October 2013, the U.S. attorney for the Middle District of Georgia, Michael Moore, launched a federal investigation, which is ongoing.
Johnson's parents, who have been steadfast in their claim that their son's death was no accident, filed a wide-ranging $100 million lawsuit this month, alleging former classmates beat their son to death inside the high school gym. The suit names 37 people, mostly members of local law enforcement, plus the city of Valdosta as defendants.
"We know who killed him. We just have to prove it," Jacquelyn Johnson told CNN.
For more information go to http://www.cnn.com