Eddie Murphy On His Love For Music: 'I Don't Want To Be An Actor Singing'
Willie Grace | 1/28/2015, 11:29 a.m. | Updated on 1/28/2015, 11:29 a.m.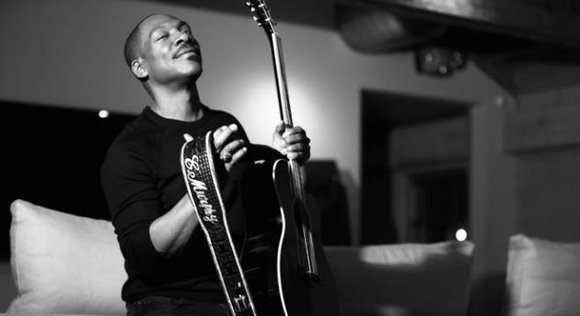 Actor and comedian Eddie Murphy is mostly known for his famous roles in the Shrek franchise, Coming to America and Beverly Hills Cop, but what many may not know is the funny man has a passion for music and has recorded songs with Luther Vandross, Sir Elton John, Paul McCartney and Garth Brooks. Some of you may even remember his 80's hit 'Party All The Time."
His newest single, 'Oh Jah Jah', taps into his love for reggae music.
"I'm a fan of Jamaican music. I've been to Jamaica a few times over the years. All my music is really really different," says Murphy. "I can go in different directions. I think it's because of my ear. I think it's from doing impressions."
There's no album out yet, but Murphy says he's working on one, that includes an earlier ballad, "Promise."
"I was healing up when I wrote that," he says.
Murphy plays guitar and piano. If you hear one of my songs and the guitar sounds raggedy, you know that's me. Naah, I'm no Jimi Hendrix, but I ain't no slouch," Murphy says.
If there's anything that people don't know about Murphy its that he's really a musician. After "Party All The Time," though, Murphy says that he stopped doing music publicly for a long time.
"I think people put me with Bruce Willis and Don Johnson and people who put out records in the 80's. People put me in that category of actors singing. I don't want to be in that category so I stopped putting records out. I didn't just want people to think I'm on the ego thing of just actors singing. I've been doing this for years and years and years in the studio. Anything that you do over again, you're going to get good at it."
Murphy says he's been working hard for years to improve his musical chops but he's not sure when most of the music he's created will see the light of day.
"I don't know a creative person who can do just one thing. Whatever you get known for, that's how you pay the bills, that's the one that you wind up doing and you don't nurture the other thing. It becomes a little thing that you wind up doing all the time like the thing that keeps the lights on. I think most people have other stuff that they can do. I just never stop nurturing the thing that I was doing since I was a teenager. I never stopped playing guitar and I never stopped writing."
As far as his day job, Murphy says he just wrapped on a Bruce Beresford (Driving Miss Daisy) movie Cook about a guy who gets hired to work as a chef for a woman who's dying. Instead she lives for six years and he becomes involved with and attached to the family.
"No, it's not a comedy. It's not funny at all. It's the first time I'm doing a sad movie. I die at the end. My hair gets all receding and chewed out. I'm an alcoholic, cigarette-smoking cook. It's a tearjerker."
Listen to the entire interview as he talks to the Tom Joyner Morning Show about music and why J. Anthony Brown's hot sauce may be too hot to handle.
For more information go to http://www.blackamericaweb.com