Macy's Supports Go Red for Women this February
A founding national sponsor of the American Heart Association's Go Red For Women® movement, Macy's has raised more than $50 million in the fight against heart disease in women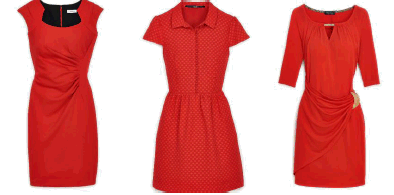 MIAMI, FL – January 28, 2015 – Macy's, a founding national sponsor of the American Heart Association's Go Red For Women®, will offer merchandise, promotions and select in-store events this February, all fashioned to bring awareness and funds to the cause of women's heart health. Over the past decade, Macy's has proudly raised more than $50 million to help fund research and education credited by the American Heart Association with saving 275 lives every day.
Macy's annual Wear Red Sale (February 4-9) will help make American Heart Month more fashionable than ever. Throughout February, Macy's will offer a selection of exclusive red dresses by Calvin Klein, Kensie and Thalia, which benefits Go Red For Women, along with a new capsule collection of Ideology active wear including graphic tanks, T-shirts, sports bra and crop pants. Customers will find these limited-edition red dresses and the new active wear collection in select stores and on macys.com in time for National Wear Red Day on Friday, Feb. 6, 2015.
"Macy's is proud to support Go Red For Women in its effort to empower all women with knowledge and tools to take positive action to reduce their risks of heart disease and stroke," said Martine Reardon, Macy's chief marketing officer. "Macy's has been a founding national sponsor since 2004 and has raised more than $50 million through efforts including our Wear Red Sale and exclusive red dresses that benefit the cause. New this year, we are pleased to offer a collection of Ideology active wear that supports Go Red – and another opportunity to raise important funds for the fight against heart disease."
"The American Heart Association is thankful for Macy's continued support of Go Red For Women and the great work they have done to raise awareness of heart disease in women," said Bernie Dennis, AHA Chairman and owner of Dennis Associates, LLC, in Acton, Mass. "An estimated 43 million women in the United States are affected by cardiovascular diseases, and a surprising 80 percent of heart disease and stroke events could be prevented by taking the right steps. Macy's helps fund lifesaving research and education that will impact many lives, and when it comes to beating heart disease and stroke, change can be the cure."
Wear Red Sale
Macy's invites all customers to help celebrate National Wear Red Day (Feb. 6), with its annual Wear Red Sale in stores from Wednesday, Feb. 4 through Monday, Feb. 9. Customers wearing red or purchasing a newly-designed 2015 Red Dress pin for $2 that benefits Go Red For Women will receive a 20 percent discount on most regular, sale and clearance merchandise or 15 percent discount on fine and fashion jewelry, sale and clearance watches, and select home items.
Macy's will continue to sell the Red Dress pin and accompanying discount through Monday, Feb.16. One hundred percent of all pin sales are donated to Go Red For Women. Last year alone, Macy's sold more than 1.1 million Red Dress pins, raising $2.3 million for Go Red For Women. Additional merchandise exclusions can apply.