Creole Nature Trail App Now Available in Additional Languages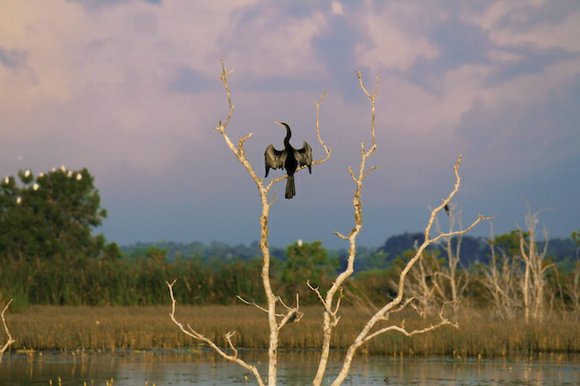 LAKE CHARLES, La. (January 29, 2015) - The Creole Nature Trail All-American Road, also known as Louisiana's Outback, has been brought to life with a free Smartphone application in six languages. The free app can be downloaded at the iTunes App Store or Android Market and has recently been updated to include Japanese and Mandarin Chinese.
One of only 43 All-American Roads in the United States, the Creole Nature Trail continues to garner attention both nationally and worldwide. "With new direct flights from China and Japan into nearby airports, and with inquiries the bureau receives from the international travel trade, we decided it would be beneficial to add Mandarin Chinese and Japanese to the Creole Nature Trail personal tour app," said Shelley Johnson, executive director of the Lake Charles Southwest Louisiana Convention & Visitors Bureau.
The Creole Nature Trail All-American Road is a 180-mile driving tour through fertile marshlands, several wildlife refuges and along Louisiana's Gulf Coast. Here, outdoor adventure and abundant wildlife are waiting for visitors in their natural habitat. Using cutting-edge technology, the multi-media, self-paced tour guide system delivers content based on where users are located on the trail.
Whenever visitors enter the satellite radius of a point of interest along the Creole Nature Trail, the device will automatically provide a play button for a video about what the visitor is viewing. It's like having a personal tour guide.
In addition to the new language translations, the app is also available in English, French, German, and Spanish.
For more information, please contact the Lake Charles/Southwest Louisiana Convention & Visitors Bureau at 337-436-9588 or log onto www.visitlakecharles.org/apps.
ABOUT THE CREOLE NATURE TRAIL ALL-AMERICAN ROAD
The more than 180-mile Creole Nature Trail was one of the first National Scenic Byways designated by the U.S. Secretary of Transportation in the Gulf South, and in 2002 that designation was upgraded to the highest category, an All-American Road. Along this distinctive natural corridor through Louisiana's Outback — one of America's "Last Great Wildernesses" — you have the opportunity to experience world-famous wildlife habitats and estuaries. The Creole Nature Trail is a journey through a wild and rugged terrain unique to Louisiana, America and the world . . . Louisiana's Outback. Find out more about the Creole Nature Trail at www.creolenaturetrail.org.