Tim Cook's Apple is hot. But can it keep going?
Willie Grace | 1/29/2015, 3:04 p.m. | Updated on 1/29/2015, 3:04 p.m.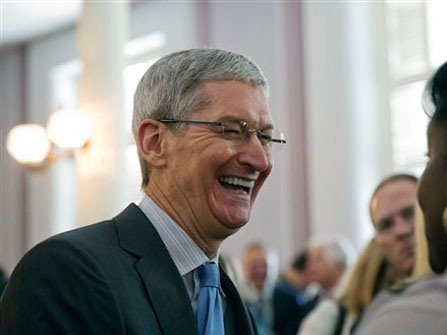 For Apple Pay to move the needle just 1% on Apple's expected 2015 revenue, Apple Pay would need to be used in $1.4 trillion worth of transactions. To put that in perspective, that's about twice what Americans spent during the entire holiday shopping season last year.
Apple just inked a major deal with IBM to get Apple products into the hands of businesses. But businesses are usually wary of adopting their products because Apple has never played nicely with corporate customers: Without notice, it eliminated crucial products like the Xserve and completely castrated its Final Cut software, making video producers furious.
And though Apple has repeatedly failed to deliver on Steve Jobs' promise of "cracking" the TV market, Cook said Apple is still working hard to get giant media companies on its side (good luck).
If those new products fail to take off, Cook is running out of tricks up his sleeve to keep Apple growing.
Though Apple's numbers would have been strong anyway, Apple gave its past quarter some boosts beyond just selling more stuff. Instead of its typical staggered launch cycle, Apple launched the iPhone 6 in a record 130 countries this past quarter. Cook added rocket fuel to Apple's supply chain, helping the company make 7 million more iPhones than it had expected to. And the iPhone 6 was the first new iPhone to debut on China Mobile, after Apple inked a deal with the world's biggest carrier earlier in the year.
Tim Cook has made everyone forget about Steve Jobs -- for now. But if he can't keep Apple's growth up, those comparisons might come roaring back.
For more information go to http://www.cnn.com