Anheuser-Busch is a 'Super' stock
Willie Grace | 1/30/2015, 5:59 p.m. | Updated on 1/30/2015, 5:59 p.m.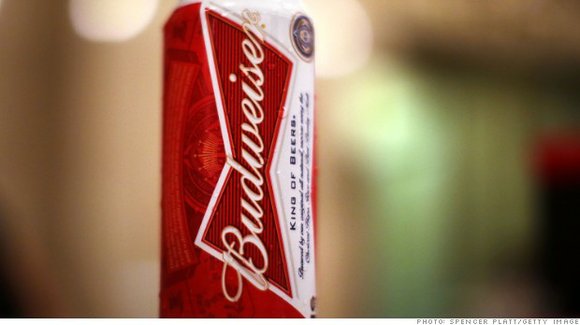 NEW YORK (CNNMoney) -- Will the Seattle Seahawks repeat? Will Tom Brady finally win his fourth Super Bowl? (He can't beat my New York Giants in the big game. Heh!)
Those are the compelling story lines for football fans. But investors have already decided who the Super Bowl stock market winners are: two big advertisers, a chain of sports bars and pizza makers.
You could put all these stocks in a Super Bowl ETF and they would be doing quite well. The ticker symbol BOWL is available.
Anheuser-Busch InBev, which might get almost as much air time as Seattle running back Marshawn Lynch eating Skittles, is trading near an all-time high.
Budweiser and Bud Light ads are typically among the most popular. Who doesn't like puppies and Clydesdales? And let's face it. Americans drink a lot of beer while watching football.
What goes well with a cold can of Bud? Salty snacks. Pepsi, which owns Doritos, is also near an all-time high.
Doritos will once again be running an ad created by consumers -- not Madison Avenue ad agencies -- that was voted as the best of a bunch of entries by fans in an online poll.
Doritos has invited people to "Crash the Super Bowl" since 2007, and the user-generated commercials have routinely been picked as among the best by ad critics.
Pepsi, which is also sponsoring the half-time show featuring Katy Perry, has been a much better stock than top rival Coke lately. Coke does not have a snack food division.
But you don't need to spend $4.5 million for 30 seconds of exposure to score a touchdown with investors.
Buffalo Wild Wings, the popular chain of sports bar/restaurants, hit an all-time high earlier this week.
The company's ads are pretty ubiquitous during the regular NFL season. And the stock has often popped before big sporting events, such as the annual March Madness NCAA college basketball tournament and last summer's World Cup.
Buffalo Wild Wings has said that the Super Bowl is its biggest day of the year.
If you prefer to watch the Super Bowl at home, pizza is probably on the menu. Papa John's, which is the official tomato pie sponsor of the NFL, is near an all-time high.
The company has several ads featuring its CEO and founder John Schnatter hamming it up with Denver Broncos quarterback (and pitchman of just about everything) Peyton Manning.
Papa John's said earlier this week that it expects more than 1 million pizza orders on Super Bowl Sunday. It has more than 2 million pounds of cheese and 350,000 pounds of pepperoni ready for the big day.
Not to be outdone, rival Domino's has said it will probably deliver more than 11 million pizza slices and more than 3 million chicken wings nationwide for the Super Bowl. That's 80% more than a typical Sunday.
But here's one football-themed (sorta) stock that would drag down the BOWL ETF's performance: Deckers. The company makes the UGG brand of boots. Tom Brady is one of its celebrity endorsers.
Deckers reported weak sales and earnings Thursday and also cut its outlook. Shares fell 17%.
I hope Brady is not getting paid in Deckers stock. He has enough things to do deal with this week : a cold, facing the fierce Legion of Boom Seattle D, and that whole DeflateGate thing.
For more information go to http://www.cnn.com