LeMay receives $200,000 donation from Barrett-Jackson auction
Willie Grace | 1/30/2015, 3:58 p.m. | Updated on 1/30/2015, 3:58 p.m.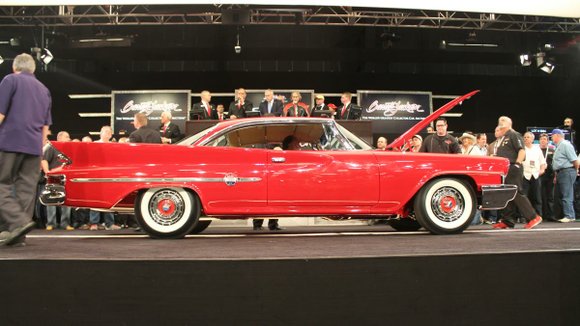 VINTAGE CHRYSLER 300G CROSSES THE BLOCK
A luxurious 1961 Chrysler 300G was donated to the Barrett-Jackson auction in Scottsdale, Ariz. The anonymous donation sold for $200,000 and the proceeds went to America's Car Museum, the largest automotive museum in North America.
With only 1,617 Chrysler 300Gs ever produced, this rare vehicle is definitely a collector. The legendary car contained its original transmission, engine, factory manuals, sales documents, spare tire and jack. The Chrysler "Code 218" was also featured in magazines, news articles and used to promote NASCAR's Daytona "Flying Mile."
"Such a unique car is an asset to anyone who appreciates its extraordinary history," said David Madeira, president and CEO of ACM. "We are grateful this vehicle was donated to help fuel our educational programs and preserve America's rich automotive history."
More than 66,500 students in the past three years have participated in educational programs including class visitations and youth and family programs offered by the Museum. In addition, the Hagerty Education Program at ACM provides career driven education to individuals interested in automotive restoration and preservation through scholarships and other grants. According to LeMay, more than $2.75 million has been awarded since 2005.
For more information go to http://www.autoweek.com