To be a glamorous bride for less, I flew to Taiwan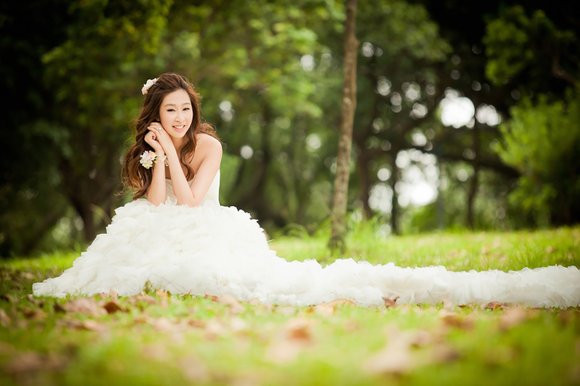 NEW YORK (CNNMoney) -- Since getting engaged last September, planning for my wedding has taken over my life.
From scoping out wedding venues, to tasting banquet food, to meeting vendors, I've spent my last 8 months planning the big day.
But here's one thing I haven't spent a single night worrying about: my wedding dress.
Surprised?
That's because I'm Taiwanese American and am in on a little-known secret.
It's called the hun sha 婚紗 package. Traditionally, hun sha means bridal portraits.
Unlike Western traditions, Taiwanese brides-to-be go through these sessions before their actual wedding day. The photos are seen as a status symbol as well as a way to capture the brides' youth and glamor.
Related: My whirlwind 24 hours at the bridal shoot in Taiwan
In my case, I chose a deluxe package that included not only the photography but my actual gown rental as well. As part of this package, I was able to choose from some of the most glamorous wedding dresses that are available for rent. My 3 selected gowns are altered to fit me and shipped to my house.
Here's what a full package looks like:
*A full day photo shoot, which includes 4 separate gowns, 2 tuxedos for the groom, full hair and makeup with touch-ups all day long 3 wedding gowns -- for the ceremony, reception, and the after-party 2 veils -- a long and short one Jewelry and hair accessories 2 flower girl dresses Bridesmaids dresses 3 photo books, in different sizes 2 enlarged prints -- a jumbo 24x30 inches and one that was 8x12 inches. Both come with custom frames Thank you cards, guest books and digital files The entire elaborate affair cost us $2,600.
Yes, we did have to fly to Taipei, and each ticket cost $1,300 round trip. Not only was it an amazing experience at an exotic place, it also beats the cost of buying or renting a bridal gown and a having photo shoot stateside.
The cost of just one bridal gown of the same quality in the United States starts at a staggering price of $5,000, which excludes tax and additional alteration costs. A wedding photographer in New York starts at $4,000, which often does not include the actual prints.
We chose LinLi, a reputable full-service wedding company that's been around since 1987. Due to its popularity, we had to make our portrait appointment 6 months ahead. But there are over 1,000 wedding photography studios to choose from in Taipei alone, all offering different price points.
That's because it is customary for bridal parties to rent instead of purchasing in Taiwan.
The U.S. rental industry too has been gaining in popularity with the rise of rental sites. But choices are limited for bridal dresses at the popular rental Rent the Runway and another site Borrowing Magnolia outfits range from $400 to over $2,000.
The princess experience
We were told to come to LinLi, one day before the actual shoot to choose our outfits. On our arrival, we were warmly greeted by Nico Hsu, who has been our direct point of contact.