Houston's Women in Power Discuss Their PowHer!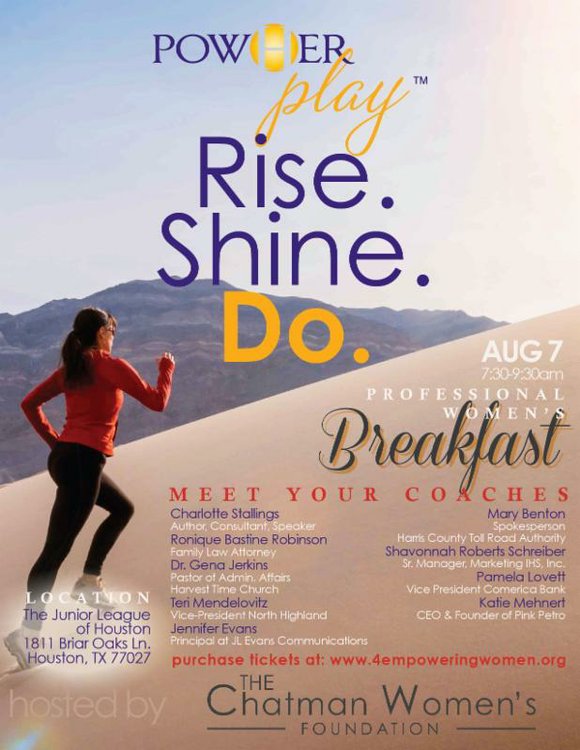 Houston, TX - It continues to be the topic of discussion on several platforms...the woman in power, the woman's pay grade, the woman's role and if the woman is strong enough. PowHer Play, presented by the Chatman Women's Foundation whose mission is to Empower women to Explore, Grow and Indulge in their own PowHer. PowHer is a woman's great ability to do or act upon anything she desires.
PowHer Playwill present a professional women's breakfast on Friday, August 7th, at 7:30 am to 9:30 am at the Houston Junior League (1811 Briar Oaks Lane). Women in the greater Houston area will RISE to hear and be led by dynamic women, take a moment to SHINE to share their accomplishments and dreams and DO what they have been inspired to do. PowHer Play will be led by 10 dynamic women from all walks of life. Our PowHer Coaches are: Mary Benton, Spokesperson for the Harris County Toll Road Authority, Jennifer Evans, Principal at JL Evans Communications, Dr. Gena Jerkins, Pastor of Administrative Affairs for Harvest Time Church, Pamela Lovett, Vice-President of Comerica Bank, Katie Mehnert, CEO & Founder of Pink Petro, Teri Mendelovitz, Vice-President of North Highland, Ronique Bastine Robinson, Family Law Attorney and Author, Shavonnah Roberts Schreiber, Sr. Manager Marketing IHS, Inc. and Charlotte Stallings, Author, Consultant and Speaker.
"Women everywhere are building strong businesses, going back to school and raising their families with little to no help. We encourage, empower and stand with women that want more, more for themselves and more for their families. With our new theme of "PowHer", we are encouraging women to go after all things they desire both personally and professionally. Join us as we uplift one another and explore our PowHer. Remember, when you uplift a woman, you uplift an entire community," Shantera Chatman, Founder of the Chatman Women's Foundation.
To purchase tickets or for more information about PowHer Play or the Chatman Women's Foundation please visit www.4empoweringwomen.org.