Bobby and Jamie Deen Hit the Road on a Culinary Adventure Through The South on Food Network's New Series "Southern Fried Road Trip"
The Deen Brothers Visit Iconic Culinary Destinations and Popular Attractions in Alabama, Georgia, Kentucky, Louisiana, Mississippi and West Virginia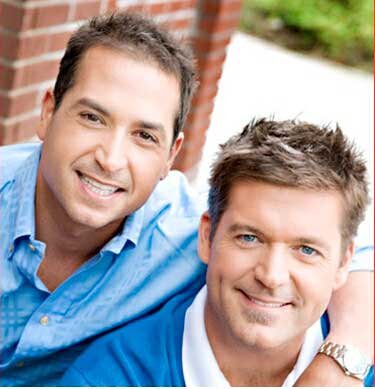 New York - June 1, 2015 - Southern pride and southern food go together like biscuits and gravy. On Monday, July 13th at 9pm CST the Deen brothers will embark on a Southern Fried Road Trip discovering some of the best local delicacies and outdoor adventures the south has to offer. Along the way they will celebrate all the people, places and pride of Dixie, from gumbo and gator on the banks of the Bayou in Louisiana, to horseracing and bourbon in the heart of Kentucky, and to brisket and blues music in Mississippi. No one knows the south and good ol' southern cooking like Bobby and Jamie Deen!
"The south is one big culinary adventure, and on this road trip the Deen brothers let their stomachs be the guide. Jamie and Bobby are funny, curious and fearless as they travel, taste, and share all that the south has to offer," said Bob Tuschman, General Manager and Senior Vice President Food Network.
Throughout the series, adventures and appetite lure Bobby and Jamie across the south reliving some of their favorite childhood memories, as they stop to get a taste of the culinary scene and local attractions. In one episode, they travel to West Virginia to wrestle the famed whitewater rapids of New River Gore. After a long day on the water, the boys are eager to chow down on grilled ribs with spicy homemade BBQ sauce, haddock fish sandwiches with homemade tartar sauce, and fried green tomato sandwiches - of course they leave room for dessert, including fresh strawberry pie, and blackberry and banana split milkshakes!
In another episode, they head to Alabama for one of the most recognizable burgers - a deep fried Slugburger (and it does not contain slugs as an ingredient). While in town, they also sample unique dishes, such as Carl John's Fried Bologna Sandwich and Tomato Pie with Garlic Pickles. Their dreams of becoming astronauts finally come true, as they visit Space Camp for an out of this world experience, as they train like real space explorers in anti-gravity chairs and harnesses. This is one trip not to be missed!
Bobby Deen has hosted his own series on Cooking Channel, Not My Mama's Meals, as well as Food Network's Holiday Baking Championship and Spring Baking Championship. Over the years, Bobby, together with his brother, has published four books: The Deen Bros. Cookbook - Recipes From The Road, Y'all Come Eat, Take It Easy, and Get Fired Up. In 2013, Bobby authored his own cookbook entitled, From Mama's Table to Mine, which was #1 on The New York Times Best Seller List. He recently released his second cookbook, Everyday Eats.
Jamie Deen has hosted his own series on Food Network, Home for Dinner with Jamie Deen. Jamie is an entrepreneur and businessman who has played an integral part of success of his family restaurants - The Bag Lady and The Lady & Sons. He is also an accomplished author, and has published four cookbooks along with his brother Bobby. Today, he lives with his wife, Brooke, and their two children in Savannah.
Southern Fried Road Trip is produced by Follow Productions.
FOOD NETWORK (www.foodnetwork.com) is a unique lifestyle network, website and magazine that connects viewers to the power and joy of food. The network strives to be viewers' best friend in food and is committed to leading by teaching, inspiring, empowering and entertaining through its talent and expertise. Food Network is distributed to more than 100 million U.S. households and up to 35 million unique web users monthly. Since launching in 2009, Food Network Magazine's rate base has grown tenfold and is now the second largest monthly magazine on the newsstand, with over 11.6 million readers. Headquartered in New York, Food Network has a growing international presence with programming in more than 150 countries, including 24-hour networks in the United Kingdom, Asia, and the Europe, Middle East and Africa (EMEA) region. Scripps Networks Interactive (NYSE: SNI), which also owns and operates Cooking Channel (www.cookingchanneltv.com), HGTV (www.hgtv.com), DIY Network (www.diynetwork.com), Travel Channel (www.travelchannel.com) and Great American Country (www.gactv.com), is the manager and general partner.