National Ice Cream: Children's Museum of Houston beats the sizzlin' Houston heat with lip-smacking ice cream making and more!
Sunday, July 19 at 1 p.m.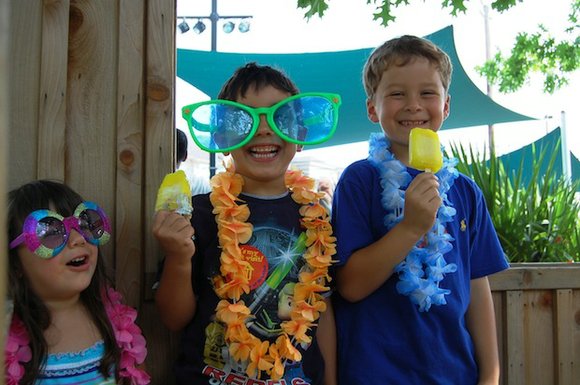 WHAT: Most superheroes can withstand the Houston heat. But not everyone can resist a mouthwatering ice cream. The Children's Museum of Houston invites you to shake, rattle, and roll your way to a tasty, frozen treat at the Summer of Epic Adventure – Forces Unite. Beware the brain freeze and make your own ice cream in celebration of National Ice Cream Day on July 19. Brr!
SPECIAL EVENTS:
Ice Cream Making: In 1984, President Ronald Reagan established National Ice Cream Day as the third Sunday in July. Make your very own irresistible ice cream!
Event Time: 1 to 3 p.m. in the Allen Family Courtyard (While supplies last)
Get Your Gear On – Capes and Masks: Use plastic fusion to create superhero accessories.
Event Time: Noon to 3 p.m. in Heroes' Hideout.
"Forces Unite" Live Epic Showdown: Find out if Dr. Boredom can be stopped in the quest for world domination in this action-packed production.
Event Times: 1, 2 and 3 p.m. in the Brown Auditorium.
ON-GOING ACTIVITIES:
• Icy Watercolors: Replicate your own fortress of solitude in the Alexander Art Academy.
• Ice Crown: Get the royal treatment with an icy crown at Junktion.
• Chill Out, Chill!: See snow created right before your own eyes at Science Station.
• Incredible Ice-Melting Blocks: Melt ice off different materials at Science Station.
• Super Cool Ice Balloon: Explore the amazing properties of ice using a balloon at Science Station.
WHEN:
National Ice Cream Day, July 19, 2015
*Activities, events and times subject to change.
WHERE:
Children's Museum of Houston, 1500 Binz St., Houston, TX 77004
HOURS/COST:
• MUSEUM SUMMER HOURS: Mon. – Sat.: 10 a.m. – 6 p.m.; Sun: Noon – 6 p.m.
• General Museum admission: $10 per person and $9 for seniors 65+ and for active duty military personnel. Children under one and Museum Members receive free admission.

• For more information, visit www.cmhouston.org or call (713) 522-1138.