The Oceanaire Seafood Room Offers One Day Lobster Special - Friday, July 24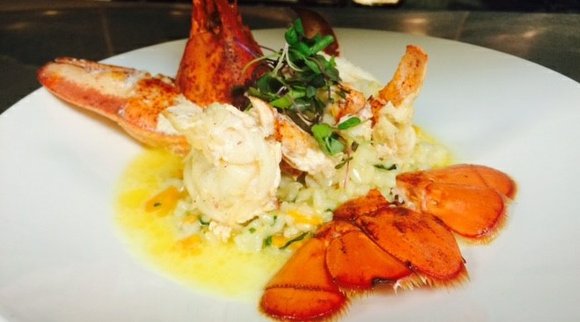 July 7, 2015 – On Friday, July 24th, The Oceanaire Seafood Room is offering two pound steamed North Atlantic Lobsters for only $35 from 5 p.m. to close.
"We look forward to celebrating the height of summer with our live North Atlantic Lobster special," said Wade Wiestling, vice president of culinary development at The Oceanaire. "We certainly hope our loyal guests will enjoy this special offering and share the Oceanaire dining experience with family and friends."
Guests can also enjoy bottles of Stag's Leap Wine Cellar's "Karia" Napa Valley Chardonnay for only $49.
Reservations are required, and patrons must call to RSVP and reserve their lobster on or before Thursday, July 23rd. The lobsters will be first come, first served.
North Atlantic Lobster also Known as the King of Crustaceans…
The claws and knuckles are full of tender, sweet meat. The tails are succulent and sweet, and have a certain firm bite to them. While the flavor and texture of perfectly cooked lobster is hard to describe, most folks feel it's worth every penny.
The Oceanaire's commitment to freshness sets them apart from the rest. Only top-of-the-catch fish from the world's most reputable suppliers is served, and each dish is carefully crafted to ensure the restaurant's high standards of quality and flavor are exceeded.
The Oceanaire provides the perfect setting to enjoy the freshest seafood flown in daily from around the world. The Oceanaire's knowledgeable staff provides guests with exceptional service by guiding them through the wide variety of items on the menu and selecting the perfect wine to complement any meal. For more information about The Oceanaire or to make reservations, please visit www.theoceanaire.com or call 303-991-2277.
ABOUT LANDRY'S, INC.
Landry's, Inc., wholly owned by Tilman J. Fertitta, is a multinational, diversified restaurant, hospitality, gaming and entertainment company based in Houston, Texas. The company operates more than 500 high-end and casual dining establishments around the world, including well-known concepts such as Landry's Seafood, Bubba Gump Shrimp Co., Rainforest Cafe, Mitchell's Fish Market Restaurants, Morton's The Steakhouse, The Oceanaire, McCormick & Schmick's Seafood, Chart House, Saltgrass Steak House, Claim Jumper and Mastro's Restaurants. Landry's also operates a group of signature restaurants, including Vic & Anthony's, Grotto, Willie G's and others. Landry's gaming division includes the renowned Golden Nugget Hotel and Casino concept, with locations in Las Vegas and Laughlin, Nev.; Atlantic City, N.J.; Biloxi, Miss.; and Lake Charles, La. Landry's entertainment and hospitality divisions encompass popular destinations including the Galveston Island Historic Pleasure Pier, Kemah Boardwalk, Aquarium Restaurants and other exciting attractions, coupled with deluxe accommodations throughout the Houston and Galveston area, including the luxurious San Luis Resort, Spa & Conference Center on Galveston Island.
For more information, visit www.theoceanaire.com