Sylvester Turner for Mayor: Road to the Future
Sylvester Turner's plan to help provide economic opportunity by coupling infrastructure investment with job training , employment matching and small-business assistance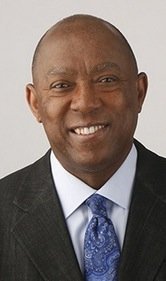 Every Houstonian knows that Houston is a world-class city. To stay on top, we have to make the big investments-not only in our roads and infrastructure, but also in our workforce - that will ensure our future growth.
Fortunately, and after many decades of neglect, we see an emerging consensus of policymakers and voters willing to invest in our roads and infrastructure. I want to go one step further and leverage these increased funds to provide economic opportunity for our working and young people who are being left behind.
Making an investment in our people will uphold the highest values of our city — and better position us for future economic success.
To ensure that we will attract new industry and grow jobs well into the future, we need a workforce that is ready to meet changing industry demands and occupy the higher- skilled jobs of tomorrow. We also need an economy full of competitive, thriving small businesses.
As mayor, I will establish a citywide program that couples infrastructure investment with job training, employment matching, and small-business assistance to that our Houston economy continues to thrive.
I call it Road to the Future: giving Houstonians the opportunity to train for future careers and small businesses the chance to grow, while working on Houston's most pressing infrastructure concerns. It is a chance to convene partners from industry, labor, education, and relevant agencies to jumpstart Houston's workforce development efforts.
Road to the Future will focus initially on road repair and transportation construction, and ultimately will expand to encompass other areas of technical expertise like welding, electrical work and building construction.
Road to the Future will:
Expand educational and career opportunities for working Houstonians by providing program participants with technical instruction, employment assistance, and a bridge to a secure career.
With the help of community partners such as our local community college systems, Road to the Future participants will be matched with job openings on road repair projects, and they will also be learning the life skills and more advanced technical knowledge they need to secure a great future career.
Grow our small businesses by providing technical training, contracting guidance, and networking opportunities to help them succeed in road and highway transportation construction. A competitive business
environment, including a thriving community of minority- owned, women-owned, and small businesses, is critical to Houston's future economic health.
Engage private partners by establishing incentives for companies to utilize Road to the Future participants in their projects. Used transparently and accountably, incentives are a great way to promote job creation and economic growth. I will work with the City Council to develop the best combination of bid preferences and incentives to ensure work opportunity for Road to the Future program participants — and with our state legislature in the
event state law changes are necessary to get the job done.
Utilize newly trained Road to the Future workers to target Houston's infrastructure needs, starting with our crumbling roads. Road disrepair is our most visible infrastructure challenge, costing Houstonians millions of dollars annually in wasted fuel, auto repairs and other costs. Road to the Future initially will focus eligible workers' efforts on addressing the backlog of repairs and upgrades for local surface streets.