Cardboard Boat Regatta Keeping Girls' STEM Career Dreams Afloat
Style Magazine Newswire | 7/9/2015, 11:04 a.m. | Updated on 7/9/2015, 11:04 a.m.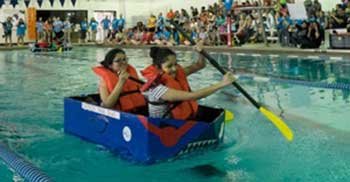 Sophomore, junior and senior girls of Chavez High School know math and science. The ladies used their knowledge to design, construct and operate a boat made entirely of cardboard. The event is called Cardboard Boat Regatta and it is through a mentoring assistance program from Rice University graduate students, GE Oil & Gas volunteers, and Chávez High School faculty. The girls were split among eleven teams and raced their boats in the new signature event of the three-year-old Rice University Institute of Biosciences and Bioengineering (IBB) Girls STEM Initiative. The winning boat was named "Mushu," after the red dragon in a Disney movie.
For more information, visit the HISD Blog at www.blogs.houstonisd.org.