U.S. Women's World Cup champs get rare ticker-tape parade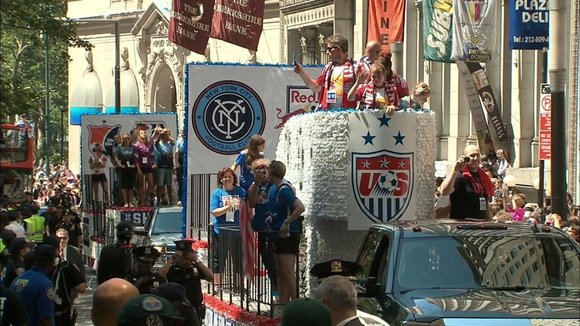 NEW YORK (CNN) -- The U.S. Women's World Cup champions were saluted Friday with a ticker-tape parade along New York's vaunted Canyon of Heroes, a historic and rare moment for female athletes.
On a glorious July morning, the 23-member squad that defeated Japan 5-2 before a record-breaking U.S. television audience became the first women's sports team in history bestowed with a parade along a stretch of lower Manhattan where soldiers, kings, astronauts and the Yankees and Giants have been cheered on by hundreds of thousands.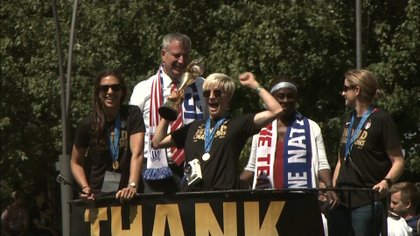 "Being able to see something like this firsthand is something young girls can only dream of," said Samantha Ruotsi, 20, who came from Buffalo, New York. "I am so proud to have grown up in a country with such strong women and it's an inspiration to be a part of this history."
Indeed, the last time female athletes paraded along the Canyon of Heroes was in 1984, when gold medalists Mary Lou Retton and Cheryl Miller joined other U.S. medal winners -- male and female -- after the Summer Olympics in Los Angeles.
"Women from sports that are dominated by men are finally getting the attention they need," said Lauren Laning, 14, a New Jersey resident. "It's inspiring to young girls."
In 1960, the winner of the Olympic gold medal in figure skating, Carol Heiss, was feted with a ticker-tape parade along the Canyon of Heroes. She was a local heroine who grew up in Queens.
There were also parades for Amelia Earhart in 1928, as the first woman to complete a transatlantic flight, and a salute to the women in the armed services in 1951, according to the business improvement group for lower Manhattan, the Downtown Alliance.
"This is a huge moment not just for women's soccer but soccer in general," Greg Lalas, a former U.S. soccer defender and editor-in-chief of MLSsoccer.com, told CNN. "I don't know of a ticker-tape parade for soccer at all... It's amazing what this team did to really bring this entire nation together -- not just for women's soccer but soccer in general."
Floats carried the players from Battery Park to City Hall, where a crowd awaited the team for a massive rally.
Carli Lloyd, who led her team to a record third Women's World Cup and scored three times in Sunday's championship match, summed up the moment on Twitter Friday with a photo of herself among the throngs and the simple hashtage #CHAMPIONS.
For her play, Lloyd was awarded the Golden Ball, signifying she was the best player at the World Cup. She also tied for most goals (six) in the tournament with Celia Sasic of fourth-place Germany.
Sunday victory over the defending champion in Vancouver, British Columbia, gave the Americans their first opportunity to lift the World Cup trophy since 1999.
"We look up to them," New Jersey resident Suzy Massara, 29, said of the players she came to honor at the parade. "Nobody works harder than them. It's so great that they're bringing the nation together."