Angelo David Salon - New York City's Leading Salon for "Couture Hair" - Relocates to Luxurious New Space on Madison Avenue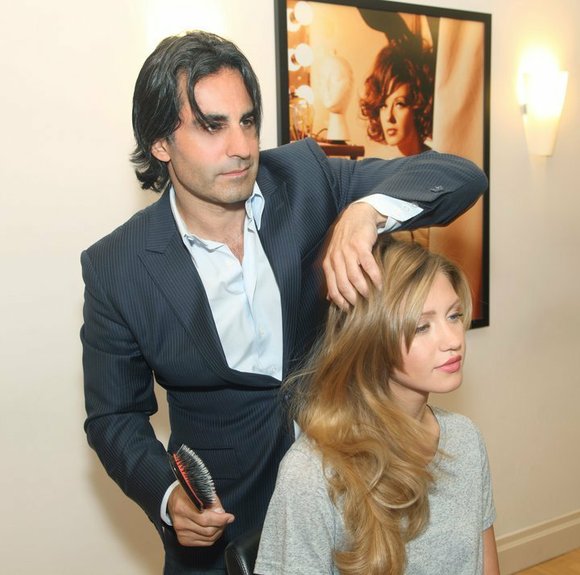 (NEW YORK, June 29, 2015) - The Angelo David Salon, New York City's leading luxury hair salon for Couture Hair, has relocated to a new flagship location at 420 Madison Avenue, world-renowned stylist and salon owner Angelo David Pisacreta announced. The salon, which has long been the premier destination in New York for high-quality, luxury solutions to thinning hair - including highly-customized human-hair extensions, additions, fillers, and wigs - is set to officially launch its new space Fall, 2015.
Located near The New York Palace Hotel and Saks Fifth Avenue, the Angelo David Salon is the latest gem on one of Midtown Manhattan's most glamorous neighborhoods. The sleek, modern 2,500 sq. ft. space designed by renowned interior designer Michele Pelafas is highly specialized boasting seven private "VIP Hair Suites" as well as a Hair Extension Styling Bar, a Beauty Concierge Department and Beauty Lounge. The new salon offers all the services you need for a complete, couture look. Beauty industry veteran, hair extension expert and originator of the salon's Couture Hair, Angelo David Pisacreta says the new salon represents an "ambitious and exciting leap into the future for the salon and brand."
Opposite the elegant reception area, the full-service salon offers haircuts, color, manicures, makeup and retail in an open-plan style overlooking Madison Avenue, offering clients an interactive and lively feel. In addition to the Hair Extension Styling Bar, the salon includes a Beauty Concierge and Beauty Lounge with plush seating. Clean lines and indirect lighting make for an overall design that Pelafas describes as, "Color corrective and indirect lighting bring the salon's ambiance to life as do the stunning chandeliers and decorative pendants." Monochromatic and tonal-warm neutrals of taupe, creamy white, oyster, espresso and walnut blend together seamlessly for a soft and welcoming palette. Color-corrective, indirect lights bring the salon's ambiance to life in the form of chandeliers and pendants.
Pisacreta and his team of exceptional beauty specialists are known for The Consultation, a highly customized treatment plan, taking into account the specific desire and lifestyle of each client. As well as the Couture Hair extensions, fillers and additions - which are made from 100% human hair and are designed on-site to match each client's hair texture, type, and color – the team offer a full range of treatments including cuts and colors, anti-aging hair solutions, beauty and bridal services. Pisacreta also designed an all-natural herbal supplement for hair, skin and nails called Hair Detox, which supports health and growth.
Salon designer Michele Pelafas says she couldn't be prouder of the finished result. "Meeting Angelo and seeing his salon for the first time was an amazing experience," she says. "I had the first-hand privilege of a hair consultation with Angelo himself. This was beneficial because I could approach the design not only from a professional perspective but from a consumer's viewpoint as well."
About Angelo David Salon
At Angelo David Salon, anyone can have the hair that he or she always wanted—completely customized for desired volume, length, color and image. As the innovator of Couture Hair extensions and additions, Angelo David has created the only salon that can address any hair challenge with the finest solutions in the world.
About Angelo David Pisacreta
Angelo David Pisacreta, creative director of Angelo David Salon, is one of the beauty industry's most experienced hair illusionists and makeover experts. He is the creator of Couture Hair and Hair Detox – an all-natural supplement for health hair, skin and nails. Angelo pairs his impeccable designing skills with passion for artistic cutting, coloring and styling abilities in order to transform the most challenging hair into any look desired.
For more information on Angelo David Salon, please visit www.angelodavid.com
Follow Angelo David on Twitter @angelodavidhair
Like Angelo David on Facebook www.facebook.com/angelodavidsalon