Get to Know the Talented, Tony- Winning Broadway Star Tracee Beazer
Raegan Carey | 7/14/2015, 4:47 p.m. | Updated on 7/14/2015, 4:47 p.m.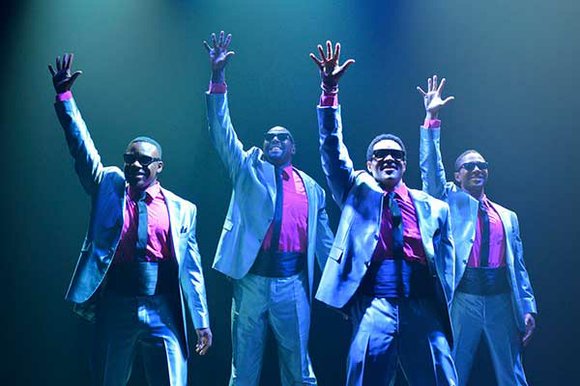 It was definitely joining the casts of Hairspray. I was 23 and it was my first Broadway show. I was only with the cast a week when we won the Tony so that alone was an incredible experience. And sharing that with so many talented and awesome people, it really felt like I was finally making it.
7. So what is next for you after Smoky Joe's café?
That is a very good question. I will be heading back to the grind in New York for more auditions. Right now I am currently working on an independent film currently "untitled" but I want to do more film work, but currently musical theatre is my forte.
8. Last but not least Tracee, two things: Tell us something about yourself we will be surprised to know!
Well actually I am first-generation American in my family and we are from a tiny little island next to Antigua called Barbuda. Very few people have even heard of it. I went back 4 years ago and married my husband there and our ceremony was even apart of the Antigua and Barbuda Tourism Authority promotion. The people there were so overjoyed and welcoming and proud of what I have achieved. It was a moment where I felt proud of where I came from and what I accomplished.
9. Any good advice for a young and upcoming performer interested in the theatre industry?
Oh I love this question! My advice for any young performer is to really find yourself first! Find yourself outside of what you are doing in this industry. Know who you are and don't let a role determine that for you. You have to value yourself and be strong in who you are. In this industry, you are criticized everyday and you can't let that define you.
Well, that about wraps us up, Tracee. So, thank you for your time. It was an honor and I can't wait to see you and the entire musical ensemble this week at Miller Outdoor Theatre! It has been a HUGE pleasure talking with you!
Theatre Under Stars (TUTS) presents Smokey Joe's Café for FREE at Houston's own Miller Outdoor Theatre from July 14-19, 2015 at 8:15pm. Catch a performance and bring the entire family to this musical hit favorite.
For more show information visit here: milleroutdoortheatre.com or tuts.com/shows/smokey-joes-cafe