KEM: From Addiction and Homelessness to 25 Years of Sobriety and Hope
Gwen B. Johnson | 7/14/2015, 4:53 p.m. | Updated on 7/14/2015, 4:53 p.m.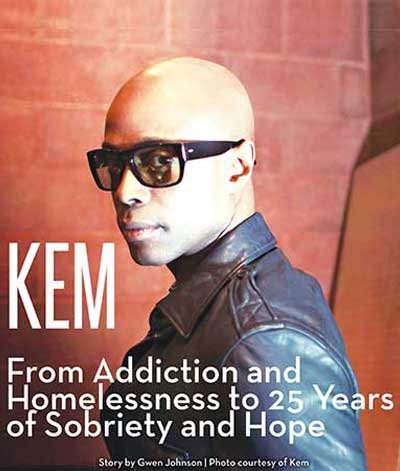 When many are legally celebrating their first drink, he was on the banks of the Detroit River trying to surrender from years of battling drugs and alcohol.  Fast forward to 2015, as KEM—Motown superstar's riveting 25 years of sobriety from addiction and homelessness is a profound and heartwarming beacon of hope worldwide.
Known for unique vocal styling, KEM was born Kim Owens, July 23, 1969 in Nashville, Tennessee.  Learning to play the piano as a toddler at his grandfather's church, KEM became enamored with the instrument.  "The piano was my refuge and solace, as it laid the foundation for my career today.  I have been nurturing this relationship with the piano my whole life," he affirms.  Having moved to the Detroit, Michigan area around age five, the crooner realized the gift of songwriting when teacher Greg Smith asked him to reconstruct Motown songs, which ended in Smith praising his songwriting skills.
The balladeer shared that the root of his lyrics stems from his desire for teen romance, but was girl shy.  A surprising revelation, as given his alluring stage presence, but he explained his home life is different than performing for adoring fans.  KEM is founder of Mack & Third Foundation that assists disadvantaged individuals during hardships.  He adds one of the agencies that assisted him was the Detroit Rescue Mission, intersecting at Mack & Third Streets.  His foundation hosts a community event and free concert where participants donate non-perishable and personal items to assist the destitute. "Mack and Third is about giving back to people who helped me," he acclaims.  In addition, the singer-songwriter-producer has the independent Kemistry label, started prior to first CD.   As a celebrity, KEM lauds a good support system, as many of "Team KEM" started out with him.
Today, life for KEM, 45, shines bright, however one of the catalysts to his spiraling was being sexually abused as a child in Nashville.   As a teen, these experiences led him to seek solace in alcohol and drugs--his answer for everything and after high school, KEM was put out the house.  He revealed he did not discuss the abuse incidents with his parents until adulthood and the neo-soul artist has made peace with the situation, "I do not have malice because they were probably a part of something systemic."  KEM states he has done his inventory, worked toward healing and come through to the other side, as these incidents have shaped him to the person he is today.
He remembers the trauma and degradation of being homeless, "Eating out of trash cans, in and out of jail, being hospitalized, I would not wish that life to anyone."  Alcohol was his main drug, but there was cocaine, acid and whatever he thought could get him to a better place.  KEM recalls girlfriends attempting to help, but his apparent love was drugs and alcohol.  He burned bridges with family but maintains he learned much, as this situation not only gave him freedom from addiction, but proclaims, gave him life.
That day on the banks of the Detroit River was the end of his rope.  He states, "I knew I had a problem and did not have a solution to fix what was going on with me.  So I surrendered!"
In recovery for over a year, he had to return to his music when released.  He worked odd jobs to purchase studio time and reportedly was mailed an unsolicited credit card, which he used to finance his Kemistry project.  Kemistry's debut showed vulnerability, passion and vocal amazement, as was it evident he was singing for his life.  Many resonated with the project and Motown executives signed KEM, then re-released the project in 2002 under their label-- And the rest, as they say is history!  "Kemistry" went certified-Gold, featuring the #1 single "Love Calls."
KEM first heard "Love Calls" when riding with his dad.  His dad did not want him to pursue music and that song helped to confirm to his dad that he was going to be OK -- or more amusingly, as Texans say, "he was the real-deal!"  Since KEMISTRY, he has climbed the charts, toured globally and the Grammy-nominated artist recorded a certified-Platinum KEM Album II, featuring "I Can't Stop Loving You."  Followed by certified-gold "INTIMACY," "WHAT CHRISTMAS MEANS" and in 2014, released "PROMISE TO LOVE" featuring chart-toppers, "Nobody" and "It's You".
He assesses that love is inevitable, as love and spirituality are inseparable.  "My career didn't take off until I connected with my spirituality," he declares.  Which is why he connects spirituality with his music. He encourages aspiring artists to make sure music is your craft and to study, learn the business and be persistent.
The Detroit-resident recently completed the Forever Charlie Tour, a 2015 industry-top tour, selling out Houston and nationwide, which headlined the legendary Charlie Wilson, along with fellow balladeer Joe Thomas.  A father of two daughters, he adds he likes to keep the lines of communication open with them so they can find safety in talking to him.  He acknowledges, "I believe a male-figure in a women's life is crucial and really try to make sure I remain present and available so they know they can count on me."
The 25th year of sobriety and his 46th birthday plans were unknown at interview time.  KEM indicated he is not aware of anyone rolling out the red carpet and treating him like the King-that-he-is and was informed Houston would be delighted to show him southern hospitality.
A book is forthcoming and HOPEFULLY a KEM Live! recording.  Upcoming performances are at Music Festivals in New Orleans, Cincinnati and Oakland.  Social media platforms are:  @MusicByKem
"Happy A-N-N-I-V-I-R-T-H-D-A-Y" KEM on your birthday and 25th anniversary of sobriety from alcohol, drugs and homelessness!!   Thank you for the piano and continued blessings for many years of profound success, sobriety, and perseverance on your inspiring journey!
For more information, visit www.musicbykem.com.