KEM: From Addiction and Homelessness to 25 Years of Sobriety and Hope
Gwen B. Johnson | 7/14/2015, 4:53 p.m. | Updated on 7/14/2015, 4:53 p.m.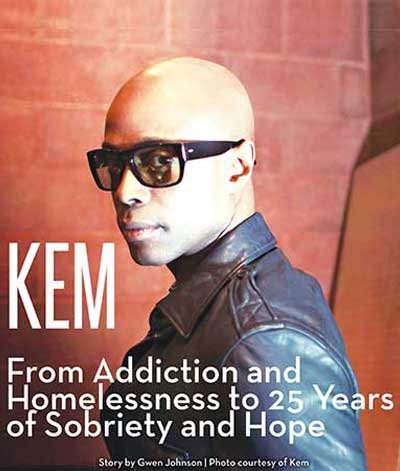 When many are legally celebrating their first drink, he was on the banks of the Detroit River trying to surrender from years of battling drugs and alcohol.  Fast forward to 2015, as KEM—Motown superstar's riveting 25 years of sobriety from addiction and homelessness is a profound and heartwarming beacon of hope worldwide.
Known for unique vocal styling, KEM was born Kim Owens, July 23, 1969 in Nashville, Tennessee.  Learning to play the piano as a toddler at his grandfather's church, KEM became enamored with the instrument.  "The piano was my refuge and solace, as it laid the foundation for my career today.  I have been nurturing this relationship with the piano my whole life," he affirms.  Having moved to the Detroit, Michigan area around age five, the crooner realized the gift of songwriting when teacher Greg Smith asked him to reconstruct Motown songs, which ended in Smith praising his songwriting skills.
The balladeer shared that the root of his lyrics stems from his desire for teen romance, but was girl shy.  A surprising revelation, as given his alluring stage presence, but he explained his home life is different than performing for adoring fans.  KEM is founder of Mack & Third Foundation that assists disadvantaged individuals during hardships.  He adds one of the agencies that assisted him was the Detroit Rescue Mission, intersecting at Mack & Third Streets.  His foundation hosts a community event and free concert where participants donate non-perishable and personal items to assist the destitute. "Mack and Third is about giving back to people who helped me," he acclaims.  In addition, the singer-songwriter-producer has the independent Kemistry label, started prior to first CD.   As a celebrity, KEM lauds a good support system, as many of "Team KEM" started out with him.
Today, life for KEM, 45, shines bright, however one of the catalysts to his spiraling was being sexually abused as a child in Nashville.   As a teen, these experiences led him to seek solace in alcohol and drugs--his answer for everything and after high school, KEM was put out the house.  He revealed he did not discuss the abuse incidents with his parents until adulthood and the neo-soul artist has made peace with the situation, "I do not have malice because they were probably a part of something systemic."  KEM states he has done his inventory, worked toward healing and come through to the other side, as these incidents have shaped him to the person he is today.
He remembers the trauma and degradation of being homeless, "Eating out of trash cans, in and out of jail, being hospitalized, I would not wish that life to anyone."  Alcohol was his main drug, but there was cocaine, acid and whatever he thought could get him to a better place.  KEM recalls girlfriends attempting to help, but his apparent love was drugs and alcohol.  He burned bridges with family but maintains he learned much, as this situation not only gave him freedom from addiction, but proclaims, gave him life.