First on CNN: Former President George H.W. Bush in the Hospital After Fall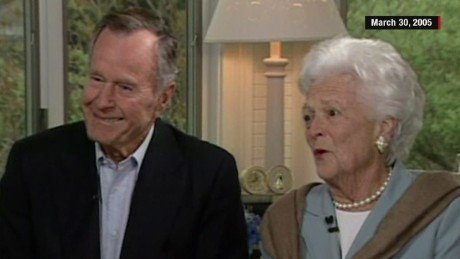 By Kevin Bohn and Peter Morris
CNN
(CNN) -- Former President George H.W. Bush fell Wednesday while at his summer home in Kennebunkport, Maine, breaking a vertebrae in his neck, but "it was not life threatening," his spokesman Jim McGrath told CNN.
Bush was taken to a hospital in nearby Portland where he is "very stable," McGrath said.
The former president was never disoriented.
"We are not expecting a long stay," McGrath said, though he added Bush would be treated with a neck brace.
"Based on the fact that they expect him to go home quickly, based on the fact that they're not planning any operation, they're just going to treat him with a neck brace that does sound positive," CNN's Chief Medical Correspondant Sanjay Gupta said Thursday on "New Day."
Bush last month just turned 91. He revealed several years ago he suffers from a form of Parkinson's disease, which has left him unable to walk, so he gets around either in a wheelchair or a scooter.
"He's 91 years old, he's going to heal more slowly than other people, people who have fractures in the neck, people who have fractures in the hip, things like that," Gupta said.
He was hospitalized in 2014 after suffering a shortness of breath. In 2012, he was in the hospital for several months after he contracted bronchitis.
Bush and his wife last week appeared at several events in Maine with hundreds of his son Jeb's top donors to his presidential campaign.
Bush spokesman McGrath tweeted on Wednesday evening, "41 fell at home in Maine today and broke a bone in his neck. His condition is stable -- he is fine -- but he'll be in a neck brace."
On Thursday morning, McGrath tweeted, "President Bush remains hospitalized at Maine Medical Center. We will send updates as they become available.
The Bush family tweeted their thanks and thoughts Thursday morning.
Jenna Bush Hager wrote: "Always touched by kindness: thanks for all of your thoughts+prayers for our dear Gamps. We are optimistic that he will heal well."
Former Republican nominee Mitt Romney made an allusion to Bush's past as a U.S. Navy pilot in World War II: "Shot down and rescued, parachuted and landed safely, @GeorgeHWBush yesterday takes a fall. May he be victorious again, I pray."
Bush has continued his adventurous ways, even as he cracked 90 years. Last year, to celebrate his 90th birthday, the former president went skydiving. He has previously parachuted seven times, including for his 75th, 80th and 85th birthdays and when he was shot down in WWII.
CNN's Sophie Tatum and Tom LoBianco contributed to this report
For more information, visit cnn.com