Carlos Correa and The Salvation Army of Greater Houston Team Up in Outreach Efforts to Downtown Homeles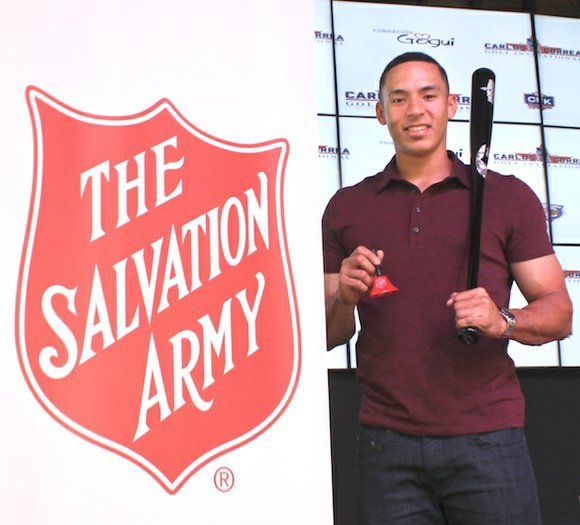 Houston, TX (July 16, 2015) Carlos Correa, Houston Astros baseball player, and The Salvation Army of Greater Houston have teamed up to do outreach for the homeless population in Downtown Houston. Bagged lunches will be distributed in front of Sally's House Women's Shelter on Friday, July 17, from 4:30 to 6 p.m. The Salvation Army's Social Services case managers will be on hand to speak with those who receive a bagged lunch in order to provide information and access to services and programs. From 1 to 1:30 p.m., Correa will join Salvation Army volunteers in preparing sandwiches for the bagged lunches.
This outreach initiative is in response to Carlos Correa's desire to assist those experiencing homelessness. Since arriving to Houston, Correa has seen the homeless population living under Highway 59 during his morning run and knew that this was an issue he wanted to address. Having worked with The Salvation Army Puerto Rico for many years, Correa reached out to The Salvation Army of Greater Houston to continue his commitment and relationship with the Army.
To learn more about The Salvation Army of Greater Houston and the homeless programs and services offered to those experiencing homelessness, please visit our website SalvationArmyHouston.org or call our main number 713-752-0677.
In this community since 1889, a United Way of Greater Houston agency, The Salvation Army Greater Houston Area Command serves Harris, Montgomery and Fort Bend Counties through youth programs, shelter, disaster relief, counseling, senior programs and rehabilitation. The mission of The Salvation Army Greater Houston Area Command is to meet human needs without discrimination. Each year nearly 30 million Americans receive assistance from The Salvation Army. About 86.3 cents of every dollar raised locally is used to support those services in Houston and 5,000 communities nationwide. For more information about The Salvation Army, please visit www.salvationarmyhouston.org.
For more information, visit SalvationArmyHouston.org