The First Robotic Doctor Announced By Cornerstone Hospital Medical Center in Houston, Texas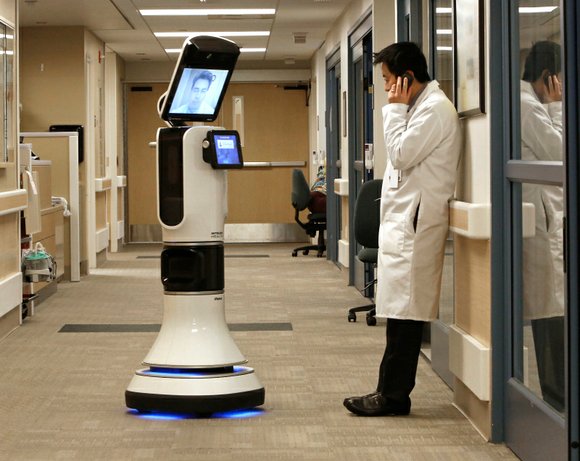 HOUSTON, Texas – On July 23, Cornerstone Hospital Medical Center will host an interactive reveal of the InTouch RP-Vita, a state-of-the-art robot fondly known as Bentley. The event comes on the heels of the hospital's recent announcement of its plans to implement a Telemedicine Intensive Care Unit Program in partnership with iDoc Telehealth Solutions.
The InTouch RP-Vita is one of the only FDA-cleared Class II Telemedicine technologies. Physicians can connect to the robot via a PC, iPad or smartphone for clinical consults in less than a minute with unrivaled access to supporting clinical documentation, patient data and medical imaging.
According to IDC, 70 percent of healthcare organizations worldwide will invest in consumer-facing mobile applications, wearables, remote health monitoring and virtual care by 2018. Cornerstone Hospital's interactive reveal event will give attendees insight into this growing trend, and an opportunity to learn more about Bentley's role in supporting the timely identification, intervention and treatment of patients experiencing a medical urgency.

"Research from the American Hospital Association shows that ICU telehealth interventions can help to improve adherence to ICU best practices and reduce response times to alarms, as well as better survival rates," said Dr. Imoigele Aisiku. "There's tremendous potential in the field of telemedicine and we're excited to share the possibilities with the local community."
The interactive reveal event will be held at 2001 Herman Park Drive from 4:00 p.m. to 7:00 p.m. It will include a hospital tour and an opportunity to interact with Bentley and meet iDoc doctors and other special guests. Cocktails and hors d'oeuvres will be served. For more information about Cornerstone Hospital Medical Center's Telemedicine Intensive Care Unit Program, visit www.chghospitals.com/medcenter.
About Cornerstone Hospital Medical Center
Cornerstone Hospital Medical Center, an affiliate of Cornerstone Healthcare Group, is a 35 bed licensed Long-Term Acute Care Hospital with CIHQ accreditation and 16 licensed Intensive Care Unit beds. The hospital is designed to bridge the continuum of care and is intended to facilitate the achievement of individualized, functional goals for medically complex patients. This business philosophy guides the medical programs providing services for pulmonary, wound care management, medically complex patients and medical with rehabilitation. The programs are designed to complement the continuum of care provided by traditional hospitals, skilled nursing units, home health and rehabilitation hospitals. In the continued effort in providing personalized care to its patients and their families, Cornerstone Hospital Medical Center will be the first location within the Cornerstone Healthcare Group to implement a Tele-ICU program.
For more information, visit www.intouchhealth.com